FREE USB Turbo stick with every TYROS2 purchased from A&C Hamilton
Tyros2 - Inspired by Nature

The Yamaha Tyros2 is a never ending source of inspiration, for playing, recording, learning, creating and performing.
The richly expressive, authentic sounds and the powerful, dynamic rhythms get your creative juices flowing like no other instrument. With the intelligent, easy to use performance features and the new audio recording function, the Tyros2 is a treasure chest of inspiration for all your musical applications. From songwriting and demo recording to arranging and live performance. Inspired by nature. Perfected by technology. Created for your personal inspiration.
Yamaha Tyros2 launched in October 2005. Its 3 years since Yamaha launched the original Tyros so theyve had plenty of time to introduce new sounds rhythms and features.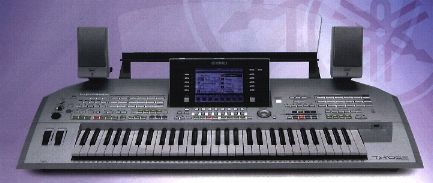 First Impressions
Preview 5th September The styling of the Tyros 2 in similar to the Tyros with the sharp corners chamfered. It looks better - more sophisticated. Enthusiasts will appreciated the styling but our other halves probably wont notice that weve upgraded, this has definite advantages.

Click Here for details of the Tyros3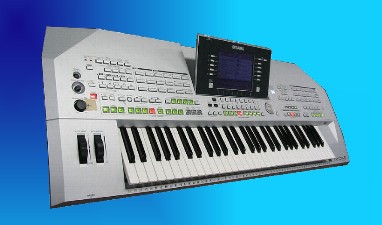 Sound Quality Yamaha have always produced good quality sounds, the Tyros 2 has many of the original sounds of Tyros. The emphasis is now on the way that the sound is delivered. The sound that we hear is dependant upon how hard we hit the key and whether we use after touch. Tyros 2 looks at the way we are playing the notes are we playing legato, staccato. the computer looks at all aspects of our phrasing, considers how a real instrument would sound and replicates it. Close your eyes and you can visualize the performance of a real guitarist or saxophonist. This is what makes the Tyros 2 special.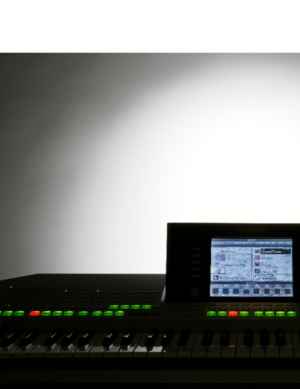 There are a few more buttons on the Tyros2 the front panel still doesnt look cluttered and the benefit is huge.
Hard Disk Recording Yamaha have introduced it for real audio. You can record yourself playing and singing and then save as an audio file. Cool !
This how I would use it, but what if I sang out of tune can I edit the file. I spoke to James Sergeant and he told me that it multi tracks. This is great because I can record my tune with the the keyboard, then sing along, then add a guitar track ( my real guitar not the Tyros 2 guitar ) I might then want to fill out the recording with some strings from the Tyros2. If I make a mistake at any stage I just re-record that track.
There are digital recorders on the market already from as little as £249. The Yamaha system is better because its neat, no leads, there is no loss of sound quality from compressing the file and the quality of effects is up there with the best of digital recorders.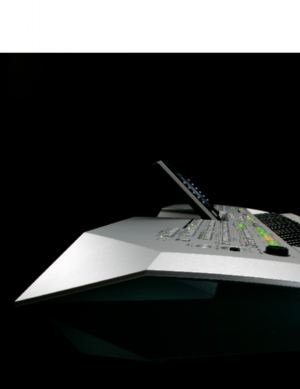 400 Rhythms A lot of effort has been put into improving the rhythms of the Tyros 2. Martin Harris and his Team of programmers has made a huge difference to the Yamaha sound over the last 4 years. He doesnt just rely on his own awesome talent, he has invited musicians from all over the world to participate in the programming of Tyros2
The fact that Martin Harris is from the UK means the UK has special attention to the sounds and styles that we like ( deservedly so ) . As an example there are lots of new organ styles. The team from Yamaha purchased several older organs , sampled them and created more organ sounds, this would suit the UK and USA market in particular.
Basically I feel that Yamaha have made a great effort in Tyros 2. They are the market leader in top quality keyboards and clearly have no intention of letting any other manufacturer beat them. You will see Tyors2 in the shops in early October 2005 and early orders will be fulfilled during October and November.
A&C Hamiltons Unique Turbo Stick
Weve tracked down loads of rythmns for the Tyros 2 all loaded on to a USB Stick for your convenience, play around with them, change voices and resave them as your own custom made styles.

Making learning fun and easy The Tyros2 also has a wealth of features that enhance your music studies, making it both fun and easy to learn new songs. There are keyboard guide functions that pause song playback and wait for you to play the correct notes. Theres even a bouncing ball in the display that shows you in real time what melody notes to play. Tyros2 has convenient performance and learning features for singers as well, adding to your playing enjoyment. The A&C Hamilton stick gives you new tunes correctly formatted for the Tyros, great for sight reading and improvisation.

Specification 
Keyboard
Type: FSX
Number of Keys: 61 keys (C1 - C6) Initial touch/Aftertouch
Touch Response: Yes
After Touch: Yes
Display
Type: LCD
Color: Color
Size: 640 x 480 dots VGA Color LCD
Back Light: Yes
Score Display: Yes
Lyrics Display: Yes
Wallpaper Customization: Yes
Other Controllers
Pitch Bend: Yes
Modulation: Yes
Multi Pads: 120, Pad 1-4, Stop, Select
Voices
Tone Generating Technology AWM Dynamic Stereo Sampling
Number of Polyphony: 128
Preset
Number of Voices: 504 (486 Normal + 18 Mega) + 10 Organ Flute + 480 XG + 256 GM2 + 23 Drum kits + 6 SFX kits (And GS Voices for GS Song playback)
Featured Voices MegaVoices (18 voices) Small Strings, Large Strings, Brass, Tenor Sax, Trumpet, Nylon Guitar, Solid Guitar 1/2, Steel Guitar, Hi String Guitar, 12Strings Guitar, Clean Guitar, Overdrive, Distortion, Acoustic Bass, Finger Bass, Pick Bass, F
Compatibility
GM: Yes (Level 2)
XG: Yes
XF: Yes
Custom
Sound Creator Voice setting Editor / Voice Creator with Wave Assign
Sampling Custom Voice
Optional Wave Capacity 4MB (Pre-installed) / MAX 1024MB (Optional)
Accompaniment Styles
Preset
Number of Preset:Styles 11 Categories 400 Styles (Pro Styles: 357, Session Styles: 43)
Featured Styles MegaVoice Styles (used by preset styles)
Variations: Intro x 3, Fill In x 4, Main x 4, Break x 1, Ending x 3
Fingering: Single Finger, Fingered, Fingered On Bass, Multi Finger, AI Fingered,Full Keyboard, AI Full Keyboard
Custom
Style Creator: Yes
User Styles: Yes
Other Features
One Touch Setting (OTS): 4 for Each Style (Programmable), with OTS Link
Music Finder/Music Database Preset: 1,835 records Edit: Programmable. Up to 2,500 records
Songs
Playback
Playback Function: PLAY, PAUSE, STOP, REC, FF, REW
Number of Preset Songs: 5
Number of User Songs: Unlimited (depending on the storage medias capacity)
Song Position Jump 4 point / Loop
Recording
Recording Function Quick Recording, Multi Recording, Step Recording, Song Editing
Number of Songs Unlimited (depending on the storage medias capacity)
Number of Channels: 16
Compatible Data Format
Playback: SMF (Format 0 & 1), ESEQ, XF, Style File
Recording: SMF (Format 0)
Hard Disk Recording
Control: Play, Pause, Stop, Rec, Prev, Next
Playlist: Repeat, Sort, Shuffle, Marking
File Format: Wave (16-bit, 44.1KHz, Stereo)
Effects
Acoustics
Blocks: Reverb/Chorus/DSPs:6, Microphone:1
Reverb: 34 presets + 3 users
Chorus: 30 presets + 3 users
DSP: DSP Effect For Style: 189 presets + 3 users DSP Effect For R1/R2/R3/Left: 189 presets + 10 users DSP Effect For Mic: 189 presets + 10 users
Equalizer: Master EQ x 7, 2-band EQ x 29
Master EQ: 5 Bands : 5 presets + 2 users
Part EQ: 2 Bands: 29 Parts (R1, R2, R3, Left, MultiPad, Style x 8, Song x 16)
Master Compressor: 5 presets + 5 users
Others: Mic effects: Noise Gate x 1, Compressor x 1, 3Band EQ x 1
Functions
Split: Yes. Separete split points for Chord and Voice (LEFT)
Poly/Mono: Yes
Panel Sustain: Yes
Accompany Style Related
Vocal Harmony: 60 presets + 10 users
Auto Harmony: Harmony/Echo (17 presets)
Functions
Lesson/Guide
Guide: Follow Lights, Any Key, Karao-Key, Vocal CueTIME
Guide Lamp: No
Performance Assistant Technology (PAT) :Yes
Yamaha Education Suite (YES: No
Demo/Help
Demonstration: Overall Demo, Function Demo
Registration Memory
Control: Bank +/-, Regist Sequence, Freeze
Number of Buttons: 8 x unlimited banks (depending on the storage medias capacity)
Overall Controls
Metronome: Yes
Tempo Range: 5 - 500, Tap Tempo
Transpose: -12 - 0 - 12 (Assignable Keyboard / Song / Master) Upper Octave (-1, 0, +1) Part Octave (-2, -1, 0, +1, +2)
Tuning: 414.8 - 440 - 466.8 Hz
Scale Type: 9 presets
Miscellaneous
Language for Display: 5 Languages (English, German, French, Spanish, Italian)
Direct Access: Yes
Storage
HDD 2.5 inch IDE (Optional, Internal)
Floppy Disk Optional
Flash Memory (Internal) 3.2MB
External Drives Optional USB Flash Memory, USB Hard Disk Drive, etc. (via USB to DEVICE)
Optional Memory 168 pin DIMM x 2 (MAX 1024MB)
Connectivity
Internet Internet Direct Connection : External Adapter (via USB to DEVICE)
USB: Yes
USB TO DEVICE: 2 terminals (Front/Back) USB Flash Memory, USB Hard Disk Drive, etc.
To Host: Yes
Headphones: Yes
MIDI: MIDI A (IN/OUT), MIDI B (IN/OUT)
AUX Pedal: Yes (Switch or Volume x 3, optional)
AUX: Audio In Yes
AUX: Audio Out Main Line Output (L/L+R, R) Sub Output 1, Sub Output 2
Loop: Send Loop Send (L/L+R, R) / AUX Out (Level Fixed): Selectable
Loop: Return Loop Return (L/L+R, R) / Aux In
Microphone: Yes (Mic./Line in Stereo)
Video Out: RGB Out, NTSC / PAL Composite
External Speaker To Satellite Speaker (L/R), To Sub Woofer (L/R)
Bundled Software
Other Tyros2 Voice Editor
Amplifiers and Speakers
Amplifiers Optional Speaker (TRS-MS02)
Power Supply: AC Inlet
Dimensions
Width: 114.0 cm
Depth: 45.0 cm (53.6 cm with music rest)
Height: 13.7 cm (37.1 cm with music rest)
Weight
Weight: 14.5 kg (15.5 kg with music rest)