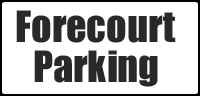 Opening Times
Mon - Sat
9.00am - 5.30pm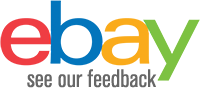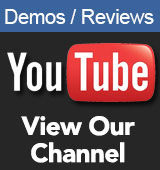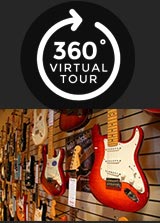 **We are fully open - Online and Instore**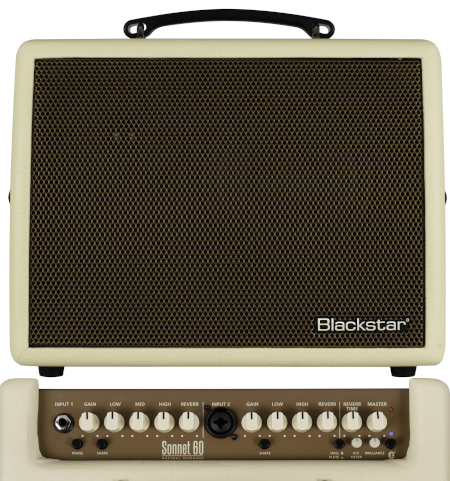 Blackstar Sonnet 60 Acoustic Amplifier Blonde
£349.00 RRP £379.00
1 In Stock

Pay Monthly
Deposit From £34.90
12 Months 9.9% APR - £27.53 P/M
24 Months 9.9% APR - £14.41 P/M
36 Months 9.9% APR - £10.05 P/M
Blackstar Sonnet 60 Acoustic Amplifier Blonde
Main Features:
Perfect for solo performers or duos
Powerful yet, light and compact
Adjustable tilt-back Stand
MP3 & Bluetooth Inputs
Separate Guitar & Mic inputs with independent controls
High Pass Filter and Brilliance controls to adjust the crucial body resonance and piezo high-end of acoustic instruments
Raw Natural Sound
The brand new Sonnet 60 has been specifically designed to give you the most natural sound possible. Most acoustic guitar amplifiers on the market compress your acoustic guitars sound which doesn't give you the same natural tone you are used to playing acoustically. Blackstar have taken this into consideration and produced an amp which shows off the tonal properties of you acoustic tone woods rather than colour them. This 60 watt model comes with a custom designed 6.5inch speaker, a single tweeter and a single bass port on the side.
Controls & Reverb
Starting off with the first channel you have a Gain control, 3-band EQ, Shape button, Phase button and Reverb level control. These controls allow you to shape your sound to your personal perference without colouring or changing the natural aspects which your acoustic guitar provides you with. The shape button is used more as a Mid cut which is fantastic for live situations and allows you to cut through a mix with ease. On the second channel you have similar controls such as Gain, 2-band EQ (Low & High), Reverb level and a shape button. These give you plenty of control over your microphone or second instrument to shape to your own personal preference. Finally in the master section you have 2 types of reverb to choose between either Hall or Room, Master volume, brilliance and Reverb time. An additional feature on the Sonnet which most other acoustic amps lack is a High Pass filter. Some acoustic guitars tend to feedback and create a lot of noise around certain frequencies, this allows you to pull those frequencies out of the mix to get rid of the feedback completely.
All the Inputs you will ever need
The Sonnet 60 has all the inputs you would ever need. Starting off with the most important ones, you have instrument and microphone inputs with independent controls making this amp perfect for solo artists or duos, allowing you to plug everything you need into one small compact amp. As well as these inputs you have an MP3/Line in inputs for you backing tracks or pre-recorded jam tracks. As well as this you also have wireless bluetooth connectivity so you can connect your phone up for between songs or even stream your backing tracks from any bluetooth device. All 4 of these inputs can be run simultaneously without any issues allowing for plenty of flexibility no matter the situation. The Sonnet series of amplifiers also have the benefit of an optional footswitch, this footswitch has two functionalities, it give you the ability to mute your amp which is fantastic for preventing any unwanted noise when you aren't playing or you are tuning your guitar up and the second function allows you to switch the reverb on and off, this is great if you are wanting a fuller sound for certain sections of a song but mellow it down when the reverb isn't required.
Outputs
The Sonnet 60 comes with several output options to suit whatever situation you may need it for! You have a professional quality XLR output which can be used to DI in to your PA or mixing desk in live situations if you are being overpowered at bigger venues, this output can also be takes into an audio interface to get that natural warm sound on your recordings and projects. This amp also stands out from its competitors by having a low-latency USB audio out, this small feature makes recording anywhere extremely simple and effortless. You can now record audio direct to your computer without the need for any interface what so ever, all this can be done by a simple USB cable!
Blackstar Sonnet 60 Acoustic Amplifier Specification
Power: 60w
Channels: 1/4" Instrument, Microphone XLR/Jack
Shape for each channel: Out'; a flat EQ response. In' position; a mid cut with a low and high boost
Channel 1 EQ: Low, Mid, High
Channel 2 EQ: Low, High
Anti-Feedback: Yes (global Phase switch)
Phantom Power: No
Pad: No
High Pass Filer: Yes (Global)
Brilliance Control: Yes (Global)
Reverb Types: Hall, Plate
MP3/Line Input: Yes
Effects Loop: No
XLR D.I. Out: Yes (Mix)
USB Audio: Yes
Optional Footswitch: FS-17 (Mute and Reverb on/off)
Tilt-Back Stand: Yes
PA Stand Mountable: Yes (with optional SA-2 adaptor)
Speaker: 1x6.5" + tweeter