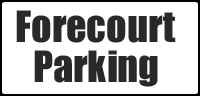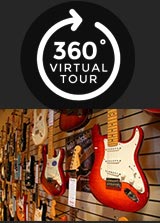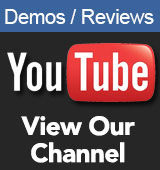 Opening Times
Mon - Sat
9.00am - 5.30pm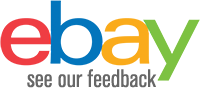 Contact Us
Sales

01772 722468

Email:

sales@achamilton.co.uk
**We are operating mail order and product support services as normal**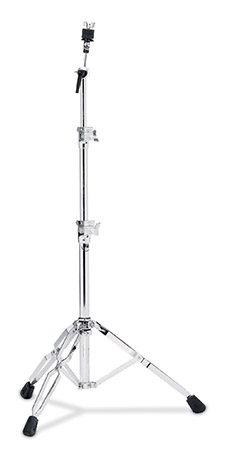 DW 9710 Straight Cymbal Stand
£132.00 RRP £165
Out of Stock
Available to Order Estimated delivery Call 01772 722468
DW 9000 Series Hardware - 9710 Straight Cymbal Stand
9000 Series offers heavy-duty and lighter weight stands in both straight and straight/boom configurations and now even with Airlift options. DW designers, drummers and techs around the world insist on memory locks on the tube joints and the tripod leg assembly, plastic tube insulators, toothless tilters, large reset handles, secondary tilter locks, cymbal space adjusters and heavy gauge tubing. DW 9000 Series Stands deliver all of this and more.
Whether you chose the versatile 9700 straight/boom cymbal stand, beefy 9710 straight stand or new 9701 low model, you'll be playing a cymbal stand that's used by more top professionals than any other. Drummer-friendly features like toothless tilter with Techlock, adjustable cymbal seat, integrated memory locks and heavy-gauge tubing make these stands road worthy and reliable beyond compare.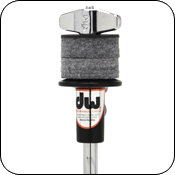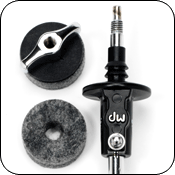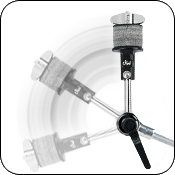 The patented Cymbal Seat Adjustment can be raised or lowered and quickly locked in place to adjust cymbal movement as needed. (U.S. Patent No. 4889028)
Integrated Cymbal Seat & Wingnut Felt keep your parts on the stand or in your hand... not on the floor, where they always seem to disappear!
The Toothless Tilter with TechLock allows for infinite adjustment and secure positioning.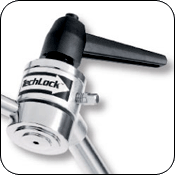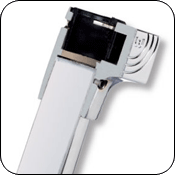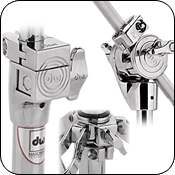 The TechLock secondary drum key locking system is inspired by working drum techs. On all DW 9000 hardware, it's a safe-guard against slippage.
Plastic Tube Insulators inside the heavy gauge tubing are a necessity in recording situations to avoid rattling when drum mics are placed close to stands.
Hinged Memory Locks are included at tube joints, cymbal arms and tripod leg assemblies to guarantee 100% repeatable, precise height settings every time.
DW 9000 Series Hardware - 9710 Straight Cymbal Stand Specifications
9700 wt. 12.3 lbs / 9710 wt. 10.4 lbs
9700 & 9710: 3/4" upper tube, 1" middle tube, 1 1/4" base tube
9701 1" upper tube, 1 1/4" base tube
9701 & 9700: 1/2" boom arm
[maximum cymbal seat height for 9710 65" / for 9700 88"]