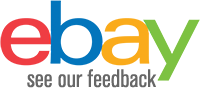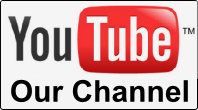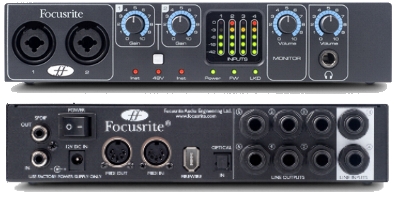 Focusrite Saffire Pro 24
This instrument is discontinued
The Focusrite Saffire Pro24 audio interface come with 2 award wining Mic pre amps and firewire connection. Pro 24 also ships with Ableton Lite 7 and over 1Gb of free samples
Designed for the modern home studio, the award winning mic pre-amps, JetPLL™ jitter elimination technology and multiple outs and inputs in the Saffire Pro 24 make this the best audio interface in its class.
Ins and Outs
Not only is the Saffire pro 24 loaded with the 2 front mounted Mic Pre sockets but it has an array of inputs and outputs. Two additional analogue inputs, six analogue outputs, ADAT inputs (for expanding the interface with, for example, Focusrite's OctoPre), stereo SPDIF I/O and 2 virtual 'loopback' inputs for routing digital audio between software applications - ideal for capturing online audio. Front panel 5-LED metering for each analogue input offers detailed viewing of levels.
Focusrite Plug-in Suite
Saffire PRO 24 includes the Focusrite plugin suite, produced by the same team that who developed Novations nio FX rack and Saffire PRO 40 Control. They provide the perfect upgrade from your standard sequencer effects with all-new Focusrite Compression, Reverb, Gating and EQ VST/AU plug-ins, for use in the mix.
Xcite + Bundle
Focusrite's established Xcite+ bundle is also included. The bundle features Ableton Live Lite (for all your production, performance and compositional needs), Novation's Bass Station soft synth and over 1 gig of royalty-free samples from Loopmasters and 'Mike the Drummer'.
Focusrite Saffire Pro 24 Main Features:
2 Mic Pres

2x 1/4 inch audio in, 6 outs

Firewire

1 x 8 channel ADAT input on Optical Connector (SDPIF 3&4 set in preferences menu)

Stereo S/PDIF input on RCA

Xcite + Bundle included

5 LED front panel metering

Zero-latency 18 x 8 DSP Mixer/Router software

JetPLL™ jitter elimination technology

Mac and PC Compatible
Microphone Inputs
Dynamic Range (A-Weighted): 106dB
SNR (A-weighted): -105.3dB
Frequency Response: 20Hz - 20kHz +/- 0.1 dB
THD+N: 0.001% (measured at 1kHz with a 20Hz/22kHz bandpass filter)
Noise: EIN > 125dB (128dB analogue to digital) (measured at 60dB of gain with 150 Ohm termination (20Hz/22kHz bandpass filter)
Maximum level (A-weighted): 8.6dBu at 1%
Line Inputs
Dynamic Range (A-Weighted): 106.5dB
SNR (A-weighted): -106dB
Frequency Response: 20Hz - 20kHz +/- 0.1dB
THD+N (A-Weighted): < 0.001% (measured with 0dBFS input and 22Hz/22kHz bandpass filter)
Noise: -90dBu (22Hz/22kHz bandpass filter)
Maximum level (A-weighted): 16.3dBu at 1%
Instrument Inputs
Frequency Response: 20Hz - 20kHz +/- 0.1dB
THD+N: 0.004% (measured with 0dBu input and 20Hz/22kHz bandpass filter)
Noise: -87dBu (20Hz/22kHz bandpass filter)
Line level Outputs
Dynamic Range (A-Weighted): 105dB
SNR (A-weighted): -104.5dB
THD+N: < 0.001% (measured with 0dBFS input and 22Hz/22kHz bandpass filter)
Maximum level (A-weighted): 16.13dBu at 0.885%
Additional Conversion Performance
Clock jitter < 250 picoseconds
THD+N AMPL (A-weighted)= -107dBFS
CONNECTIVITY
Analogue Channel Inputs (Inputs 1-4)
2 x XLR Mic/Line high quality Combi-Jacks (Inputs 1-2)
2 x XLR Instrument high quality Combi-Jacks (Instrument on inputs 1 and 2 only) Automatic switch of Mic / Line (inserting a jack switches from Mic to either
Line or Instrument (instrument selected via the software control panel)Line inputs 3-4 have low and high gain settings can be controlled from the Saffire
MixControl software (low gain being the default)
Digital Channel Inputs (Inputs 5-14) 44.1-96kHz
Stereo S/PDIF input on RCA
1 x 8 channel ADAT input on Optical Connector (SDPIF 3&4 set in preferences menu)
Analogue Audio Outputs (Outputs 1-6)
6 x TRS analogue outputs (Outputs 1-6)
1 x TRS stereo headphone output
Digital Channel Outputs (Outputs 7-8) 44.1-96kHz
Stereo S/PDIF output on RCA
Other I/O
1x 6 pin FireWire 400 socket - also compatible with FireWire 800 and Thunderbolt
2 Standard 5-pin DIN MIDI connectors: In and Out
12V DC power input connector for use with external PSU
Weight and Dims
1.6kg / 3.5 lbs
215mm / 8.5" (W) x 45mm / 1.8" (H) x 220mm / 8.65" (D)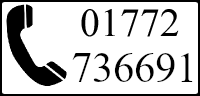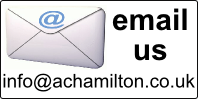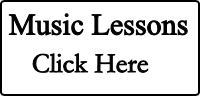 Alternative Choices