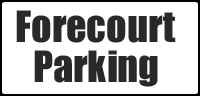 Opening Times
Mon - Sat
9.00am - 5.30pm


Contact Us
Sales:

01772 722468

Email:

sales@achamilton.co.uk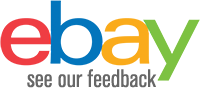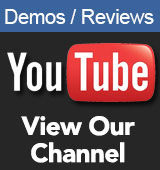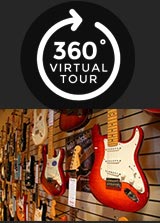 **We Are Open for Mail Order, Telephone Enquiries and Product Support**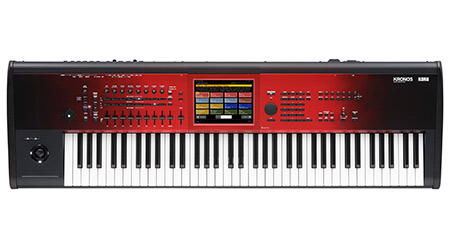 Korg Kronos 2 73 Special Edition
The Kronos 2 73 has now been supercharged with the new Special edition model. 9 Different sound engines offering world class sounds now have a new added Ka Pro Showcase soundset offering more creativity and selection than ever before. To separate the SE model even further to the standard version, a new red to black faded metal casing adorns the front panel along with dark wooden sides to match. This workstation really does look at beautiful as it sounds.
Huge Choice Of Sound
Renowned for the massive selection of high quality sound engines, this special edition model is no different offering the same mighty sonic capabilities of the original. However these sound engines now have further choices in the form of strings, woodwind, brass and more all developed by KA Pro and added in to the factory sounds. The Sound engines include:
SGX-2: Premium piano sound engine with class-leading 12 layer velocity switching
EP-1: Virtual engine with six of the most popular classic electric pianos.
HD-1: High Definition Synth is the most powerful PCM based sound engine ever developed. Makes use of KORG`s proprietary low-aliasing sample playback oscillators
AL-1: Analogue Synthesizer using oscillator waveforms and filter morphing.
CX-3: Tonewheel Organ model of the CX-3 organ. Faithful to the legendary original with incredible rotary emulation, overdrive and full drawbar control
STR-1: Plucked String Physical Modelling Synthesizer shines at producing string sounds such as acoustic guitar, electric guitar, harpsichord, clavinet, harp, bell, as well as ethnic instruments
MOD-7: VPM/FM synthesis sound engine combines Variable Phase Modulation (VPM) from KORG`s classic Prohpecy and Z1, add in some wave-shaping, a little ring modulation, mix in a few samples, and add subtractive synthesis.
MS-20EX: Analog modeling sound engine faithful to the original instrument. Capable of patching cables virtually on the screen to create the famous sounds of yesteryear with rich filters and in-depth analogue controls.
PolysixEX: Analogue engine with self-oscillating four-pole filter, smooth analog oscillator and sub-oscillator, plus a lush Chorus/Ensemble effect.
KApro Showcase: Not a self contained sound engine but this sound collection includes orchestral strings as well as brass, woodwinds, choir, and phrases. It's a showcase of sounds from KApro, who has developed more than 100 titles of Korg sound libraries.
Live Performance Tools
Live set mode brings together all your desired programs and combinations in a single window for instant access. Colour coded blocks on the large LCD screen combined with customisable viewing options, make viewing on stage or in the studio extremely clear. You can even customise the display to show notes and information per selection with reminders fo whatever you want for cues, chords or anything you need.
If that wasn't enough, the Kronos 2 SE utilises the SST (Smooth Sound Transition) technology allowing the performer to switch sounds without any glitch or hickup in the the current sound.
Song Recording Tools
A fully fledged 16 track MIDI and 16 track audio sequencer make the KRONOS 2 a complete all in one compositional tool. Everything you need to create your musical masterpiece is built-in - individual note edit, parameter listed editing, looping, copy/ paste measures or tracks, multi effect control and more.
The audio track sequencer makes use of the rear input connectors so you can record guitars, microphones, or whatever instrument you want direct just like a normal hard disk audio recorder. There are dedicated effects and you can even bounce tracks or bounce the MIDI tracks into audio tracks. You can basically let your musical creativity run wild and end up with a mastered CD quality audio file.
KARMA Technology
KARMA is one of the most advanced arpeggiator systems ever created and KRONOS 2 packs in 4 modules in one unit. It allows for complex arpeggiator patterns to be played and tweaked in realtime offering a truly unique performance experience. Users can create their own variations with an almost infinite pallet of capabilities. There are 2,048 presets and 1,536 user slots to keep you busy.
Solid Metal Casing
The Kronos case has always been designed in a tough outer metal shell with Kronos 2 having wooden end caps as opposed to the original plastic. The Special Edition model here comes with a lovely red to black faded design on the metal case along with dark wood end panels which looks absolutely stunning.
Product Specification
Keys: 73 Note RH3 (Real Hammer) - Velocity sensitive with graded hammer system
Sound Engines: SGX-2, EP-1, HD-1, AL-1, CX-3, STR-1, MOD-7, MS-20EX, PolysixEX
Built-In ROM Expansion Libraries: EXs1 - ROM Expansion / EXs2 - Concert Grand Piano / EXs3 - Brass & Woodwinds / EXs4 - Vintage Keyboards / EXs5 - ROM Expansion 2 / EXs6 - SGX-1 German D Piano / EXs7 - SGX-1 Japanese C Piano / EXs8 - Rock Ambience Drums / EXs9 - Jazz Ambience Drums / EXs17 - SGX-2 Berlin D Piano / EXs18 - KORG EXs Collections / KA Pro Showcase
Sample Memory: Approx. 2Gb **The memory available for Sampling Mode will change based on the use of Expansion PCM libraries and User Sample Banks. (When loading the file named PRELOAD.KSC).
Wave Sequences: 598 User memory, 187 Preload Support for stereo multisamples, synchronization of individual notes, and tempo-based settings.
No. Of Programs/Combinations/Drum Kits: 2,560 user memory programs (1,792 [896 HD-1+896 EXi] come preloaded)
1,792 user memory combinations (512 come preloaded)
264 user memory drum kits (78 come preloaded)
256 GM Level2 preset programs + 9 GM Level 2 drum preset programs
Set List: 128 set lists, 128 slots per set list Each set list provides a 9-band graphic EQ, and a Tone Adjust function that allows program settings to be adjusted. Transpose setting. Hold Time setting of Smooth Sound Transition (SST) supported for each slot.
Sampling System: Open Sampling System (resampling, In-Track sampling)
Bit Depth/Sampling Frequency:
RAM: 16-bit/48 kHz stereo/mono sampling
DISK: 16 or 24-bit/48 kHz
Sampling Time:
RAM: Depends on the amount of available PCM RAM
DISK: Maximum 80 minutes stereo (879MB: 16bit)
Sample Locations:16,000 samples/4,000 multisamples (128 indexes per multisample)
Ripping: Direct sampling (ripping) from audio CD (CD-DA)
Formats:KORG format, AKAI S1000/S3000 data (with advanced Program parameter conversion); SoundFont 2.0, AIFF, and WAVE formats
Editing: Time Stretch, Time Slice, Crossfade Loop, and other standard editing features.
Effects:
Insert Effects: 12 - Stereo in / stereo out
Master Effects: 2 Stereo in / stereo out
Total Effects: 2 - Stereo in / stereo out
Timbre EQ: One 3-band EQ for each timbre/track
Effect Types: 197
Modulation: Dynamic Modulation and Common LFO
Effects Control Busses: Stereo side-chaining for compressors, gates, vocoders, etc.
Effect Presets: Total 783 preset, Maximum 32 per 1 effect (Preset User)
KARMA:
KARMA Modules: One module in Program mode, four modules in Combination and Sequencer modes
Generated Effects (GE): 2,048 presets, 1,536 Users (96 come Preload)
Controllers: On/Off, Latch, Chord, Assign, Module, Control, KARMA Realtime Control Sliders [1] - [8], KARMA Scene [1] - [8], KARMA Switches [1] - [8], KARMA Wave-Sequencing, GE Sub Category, Freeze Randomize, Time Signature Control, Tempo Synchronize, Auto RTC (Real Time Control) setup
Sequencer:
Tracks: 16-track MIDI sequencer + 16-track hard disk recorder + 1 master track
Number of Songs: 200 songs
Resolution: 1/480
Tempo: 40.00 - 300.00 (1/100 BPM resolution)
Maximum Memory: 400,000 MIDI events or 300,000 audio events
MIDI Tracks:16 tracks plus the master track 718 preset/100 user patterns (per song) 18 preset/16 user template songs,
Format: KORG (KRONOS, OASYS) format, SMF formats 0 and 1.
Audio Tracks: 16-track playback, 4-track simultaneous recording, WAV file format 16bit/24bit.
Maximum Single-file Recording Time (mono): 80 minutes
Automation: Volume, Pan, EQ, and Send1/2; 10,000 regions (max.), Event Anchors, BPM Adjust
RPPR (Realtime Pattern Play and Record): 1 Pattern set per song, Auto Song Setup function
Controllers: Vector Joystick, Joystick, Ribbon Controller, Switches 1&2, Knobs 1-8, Sliders 1-8, Upper and lower row switches 1-8, master slider, KARMA On/off and module control switches. Drum track on/off
Graphic Display: Touch screen 8 inch colour TDT SVGA with adjustable brightness
Output Connections: MAIN OUT L/R, Individual 1-4 TRS balanced out, Headphones out, S/P Dif, USB-B (24bit 48kHz, 2 channels)
Inputs: Audio In TRS 1 and 2 (balanced), S/P Dif, USB-B, Damper Pedal in, Assignable switch, Assignable pedal
MIDI: In/ Out/ Thru
USB: Type A x2: To external storage devices, Type B x1: MIDI/ Audio Interface
SSD Drive: 62GB
Dimensions: 1,221 x 371 x 148 mm / 48.07 x 14.61 x 5.83
Weight: 21.1 kg / 46.52 lbs.