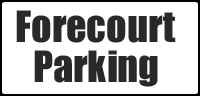 Opening Times
Mon - Sat
9.00am - 5.30pm


Sundays
Closed


2nd/ 3rd June
Closed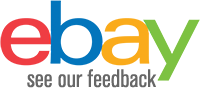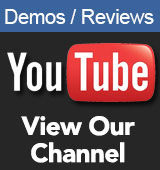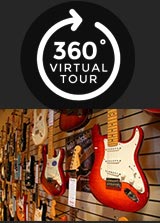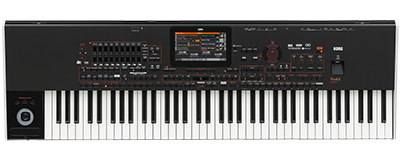 Korg PA4X 76 OR Oriental - Used
This instrument is discontinued
Korg PA4X 76 OR Oriental Professional Arranger Keyboard - Used
Fantastic condition in mint condition includes original box and everything with a brand new model. INCLUDES 12 Month Warranty
The Korg PA4X 76 Oriental is a 76 note professional arranger offering only the highest quality sounds, styles and tunings that are essential for a whole range musical genres from western through to Oriental styles. No matter whether you want to play Arabic, Persian, Turkish or western style music, the oriental is full of specially sampled sounds and styles to ensure professional results.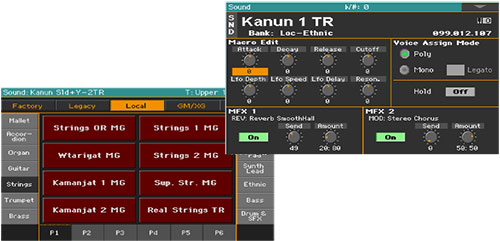 Incredible Sound: EDS-X/ DNC Technology
Korg set a new standard with the EDS-X and DNC sound technologies which combined offer up a pallet of extraordinary sounds. There are over 1650 sounds to choose from selected to cover all genres of music. More importantly the sound detail brings true realism to your performance. Acoustic instruments from piano and guitars right through to electronic and EDM sounds are covered. The PA4X Oriental has a specially chosen selection of oriental sounds such as Kanun, Oud, Strings a whole range of Arabic drum kits and much more.
DNC (Digital Nuance Control) adds natural expressions and articulations only the original instruments could originally produce. Violins can be played with trills, saxophones can have glissando runs, guitars can have harmonics and all triggered at the touch of a button. DNC brings a new level of reality to your playing without players having to learn a new technique.
The Pa4X-76 relies on Korg`s advanced EDS-X (Enhanced Definition Synthesis-eXpanded) sound engine, and comes complete with over 1,500* ready-to-play sounds. Included is a new multi-layer stereo grand piano (with damper and body resonance), plus electric pianos from the acclaimed KORG SV-1 Stage Piano. In addition, the Pa4X has been equipped with new wind instruments, strings, basses even acoustic and electric guitars. Sounds have been painstakingly captured using state-of-the-art methods that allow the finest of details to be accurately reproduced. The digital drawbar organ includes key on/off noises, leakage, and Rotary Speaker emulation.

Korg Osimo
The new Osimo software is a fantastic add-on for your Pa4X. Osimo has been developed by the specialists at Korg to provide a simple way to access great song settings. They have created a range of set lists with famous name settings for popular songs alongside many other bonus settings so you can instantly select and play. This magnificent software is provided free by us with your Pa4X purchase.
We also have an instruction sheet available to make using your new Osimo software very easy. View the installation guide here
PA4X V3 Upgrade
The new Pa4X V3 Software (Korg OS NEXT) refreshes the PA4X keyboard and enhances the capabilities of the instrument. Best of all its a completely free upgrade! Pa4X NEXT includes a host of new features. These include:
New Dark Glimmering user interface - designed to make it cleaner and easier to view the screen
New direct reading of samples from USB making up to 1.5Gb of sample space available (uncompressed)
New copying of keyboard sets between styles and songbook entries
New drawbar organ screen to enhance ease of use and access
New record screen - consolidates all different record options in one place independent of current play mode
New quick record screen more represents the standard play screen to make it easier to use
Plus a whole bunch of other new stuff such as smoother operation, bug fixes, locking of keyboard sets and more!
Users may download Pa4x OS V3 at the official Korg website. Our customers benefit from full technical support and help with installation and upgrade of the firmware.
Styles For Everyone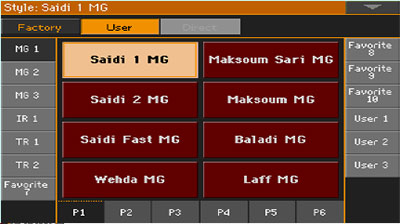 Even though the PA4X Oriental is equipped with over 190 specially developed Oriental/Arabic styles, it is also packed with a huge choice of world class styles we all know and love from pop and rock through to movie and show and everything in-between. there is over 650 styles to choose from in this keyboard and will keep you entertained for many years to come.
Special Quarter Tone Custom Memory
Oriental music uses very different tuning to standard western music and all of the tunings can be customised and saved for instant recall in to 15 memory banks. Each individual note of the scale can be tuned to your liking and with a 15 memory capacity it is quick and easy to change scaling for any genre of music.
Easy To Use: Colour Touch Screen
Oriental models feature a colour, tilting, 7inch capacitive touch screen display. The layout is designed for clarity and quick navigation so your performance can flow and editing, creating and customising virtually all aspects of the instrument is done clearly and easily. The screen can also lock at differing angles to suit your playing position or lighting.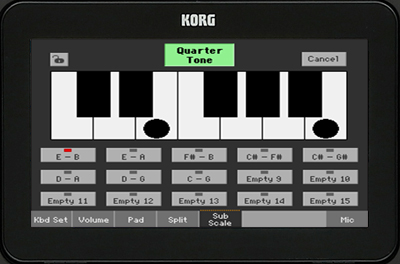 MIDI File To Style Conversion
Many keyboards can play styles, and many keyboards can play MIDI files, but the PA4X is capable of converting a MIDI file into a style! So instead of the whole song just playing through, you can take control and play the perfect style for your performance in any way you want to play it, instead of being fixed by the linear flow of the song playback. It is easy to do, quick and the results are great. It also allows you to completely customise the sounds, effects and balances of the style just like any other style so you can bring out the best in your performance.
Powerful Effects Processing
Having high quality sounds and styles is great but of the effects are weak, then the results will be weak. The PA4X Oriental is equipped with a huge selection of detailed, top notch effects processing to bring out the best in your music. The effects processor offers 148 different effects types which can all be changed to your liking. The styles can have up to 4 insert effects and 3 master effects running simultaneously whilst the sound parts can have 1 insert effect and 2 master effects simultaneously.
Double MP3 and MIDI File Player/Recorder
Korg PA4X Oriental can record and playback MP3 or MIDI files of your performance. When using the MP3 recorder it is even possible to record your vocal at the same time as your performance and create a high quality recording of your song. Recording a standard MIDI file is easy and up to 16 tracks can be recorded/ layered to create your musical masterpiece. As with all MIDI data, the MIDI file can be edited in detail right down to individual note level or for simply balancing, and mastering with effects - the PA4X can do it all.
Being a double player, you can play one song whilst preparing the next for playback. A cross-fader situated right in the middle allows you to cross-fade between the 2 files, very much DJ style!
Vocal Processing With TC Helicon
Tc Helicon are renowned throughout the globe for their high quality vocal processors and offering superb vocal harmony features. Korg have worked with TC Helicon and built-in such a quality vocal processing unit. All aspects of the harmony can be modified from Reverb and Delays through to the tuning of the individual harmonic voices that are applied with your singing.
Data Storage
The Korg PA4X Oriental has a built in storage device and USB slot with the option for an additional HD. The 76 note model comes with a HD as standard. Both models offer the option to insert a micro SD card slot for permanent storage in the instrument for all your data. Either way, even without the HD, the 61 note Oriental PA4X has a huge amount of space available whether it be to the internal storage memory or external USB. You will not have to worry about storing and saving all your work.
Keyboard
Pa4X ORIENTAL 61: 61 keys (C2 - C7)
Pa4X ORIENTAL 76: 76 keys (E1 - G7)
Semi-weighted keys with Velocity and Aftertouch
System
Upgradable Operating System
Multitasking, load while play feature
Sound Generator
EDS-X (Enhanced Definition Synthesis-eXpanded)
Filters with Resonance - Three band EQ for each track
Polyphony
128 Voices, 128 Oscillators
Effects
Accompaniment/Song: 4 Insert Effects; 3 Master Effects (148 Types)
Keyboard Tracks: 1 Insert Effect; 2 Master Effects (148 Types)
Final Mastering Effects: Waves Audio Ltd.
MAXX Suite:Includes MaxxEQ, MaxxBass, MaxxTreble, MaxxStereo, MaxxVolume
Voice Processor Technology by TC Helicon
Four-part Harmonizer, Double, Mod, Reverb, Delay, Filter, HardTune, Pitch Correction;
plus Compressor, EQ, Gate (Adaptive Mic Setting on the Mic input)
Sounds / Drumkits
Factory: More than 1,650 Sounds including a multi-layer Stereo Piano with damper/body resonance, GM/XG sound sets and more than 140 Drumkits including Ambient Drums
User Area: 512 Sounds, 128 Drumkits
Digital Drawbars: 9 Footages, Percussion, Key On/Off, Leakage (Effect section includes rotary speaker)
Defined Nuance Control (DNC) Technology
Natural Ambience Drums Sound
Full Sounds/Drumkits editing capability
User PCM RAM Memory: 400 MB
Sampling
Load KORG, Wav, AIFF and SoundFont formats
Save KORG, Wav and AIFF formats
Full Edit, Time Slice, Sampling feature
Styles
More than 650 preloaded Styles, freely reconfigurable
1,872 locations including the User banks and Direct function
Eight Style tracks, 4 Keyboard Sets, 4 Pads and one Style Setting per Style
Guitar Mode 2, Parallel and Fixed NTT
Style Record with Step Record, Track and Event Edit functions
Style controls: 3 Intros, 4 Variations, 4 Fills, Break, 3 Endings, Synchro Start, Synchro Stop, Tap Tempo/Reset, Bass Inversion, Auto Fill, Manual Bass, Memory, Accompaniment Mute, Drum Mapping, Snare & Kick Designation, Style to KBD Set Mode
Chord Sequencer
Chord Sequence recorder in Style Play mode
Chord Sequence save in Style and SongBook entries
Edit functions: delete, copy from Style/SongBook, import/export from/to SMF
Keyboard Set Library
Memorize keyboard tracks settings
1,584 locations including the User banks and Direct function
"My Setting" special Keyboard Set
Song Play
Patented XDS Crossfade Dual Sequencer Player with X-Fader Balance control
Supported formats: MID, KAR, MP3 + lyrics, MP3+G
2 Players with separate Select, Start/Stop, Home, Rewind and Fast Forward controls
Lyrics, Score, and Chord data can be displayed on screen, or on external video monitor
Markers with Add, Delete, Edit and Loop functions
Jukebox function
MP3 Player / Recorder
Double MP3 Player and MP3 Recorder
Transpose (+6/-5 semitones)
Tempo change (+/-30%)
Advanced Vocal Remover
Record MP3 files including Styles, SMF, MP3, Keyboard Tracks, Pads, Microphone and Effects
Sequencer
Quick Record (Backing Sequence), Multitrack and Step Record functions
Full-featured sequencer, 16 tracks, Up to 200,000 events, SMF native format
SongBook
Fully programmable music database, based on Styles, SMF, Karaoke, MP3 with automatic selection of Style Play and Song Play modes
User-definable Set Lists with layout button association
Filtering and Ordering options
Compatibility
"i-Series" models: Styles
"Pa-Series" models: Style, Performance, Program/Sound, Song, SongBook, Pad
Pads
4 Assignable Pads + Stop Button - Pad Record function
General Controls
Master Volume; Fade In/Out; Keyboard-Acc/Song Balance Volume; Ensemble; Octave Transpose; Master Transpose; Quarter Tone and Arabic Scale memorized inside Keyboard Sets; Joystick (pitch + modulation); Ribbon; Mic Volume; Harmony/Double; Delay/Reverb; Mic Preset; Mic On/Off; Harmony On/Off; Double On/Off; 8 Assignable Sliders; Slider Mode; MP3 Volume; 3 Assignable Switches; Tempo +/-; Tempo Lock; Metronome On/Off; Dial; Up/+; Down/-; Search; Shift; Chord Scan (Lower, Upper); Split; Keyboard Tracks Sound Select and On/Off; Record
Control Inputs
Damper pedal (support half-pedaling with optional DS-1H pedal)
Assignable pedal/switch
EC5 multiswitch pedal
Mic/Line Inputs
Mic: Combo XLR balanced with Gain control and Phantom Power
Line 1: Left/Right Jack (1/4") Line Input, balanced
Line 2: Stereo Mini-jack (1/8") Line Input, unbalanced
Outputs
Audio Output: Left/Right, Out 1, Out 2; (1/4" TRS) balanced
Headphone Output x 1 (Front panel)
Video Out x 1, RCA type
MIDI
IN, OUT, THRU standard MIDI connectors
USB to MIDI using the USB Device port
8 user definable MIDI Setups
USB
Type A (Host) x 2 (Front/Rear)
Type B (Device) x 1 (Rear)
2.0 Hi-Speed connections
Storage
Hard Drive: Pa4X ORIENTAL 76 (Standard) / Pa4X ORIENTAL 61 (optional - Hard Disk Installation Kit required)
Micro SD card: (Card not included) - Rear panel slot with plastic cover
USB Flash Drive: (Drive not included) - 1 Front panel port - 1 Rear panel port
Display
7" Wide capacitive color TouchView TFT display
AC - Power Consumption
100-240 Volts, 50/60 Hz
0.5 Watt in standby / 16 Watt normal / 38 Watt with PaAS installed
Dimensions (W x D x H) without music stand
Pa4X ORIENTAL-76: 1,192 x 364.4 x 125.56 mm / 46.93" x 14.35" x 4.94" with display fully lowered
Pa4X ORIENTAL-61: 980 x 364.4 x 125.56 mm / 38.58" x 14.35" x 4.94" with display fully lowered
Weight
Pa4X ORIENTAL-76: 16.3 kg / 35.93 lbs
Pa4X ORIENTAL-61: 13.9 kg / 30.64 lbs
Included Items
AC Power Cable, Music Stand
DVD-ROM: includes Owner's manuals in pdf format, Video Manual, and KORG USB-MIDI Driver
Accessories
PaAS Amplification System
ST-SV1 Keyboard Stand
HDIK-3 Hard Disk Installation Kit (for 61 keys only)
EC-5 Multiswitch Pedal
EXP-2 Foot Controller
XVP-20 Vol/Exp Pedal
XVP-10 Expression/Volume Pedal