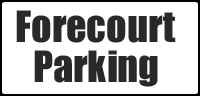 Opening Times
Mon - Sat
9.00am - 5.30pm


Sundays
Closed


2nd/ 3rd June
Closed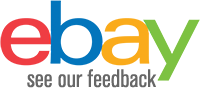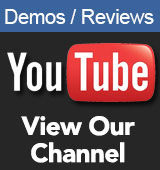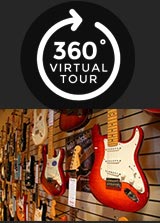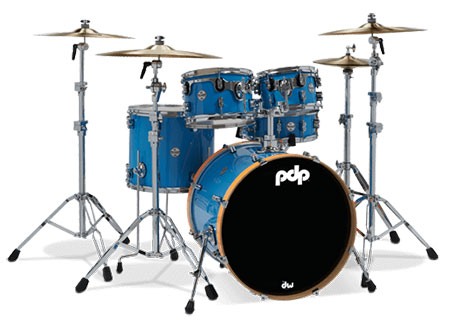 PDP Ltd. Edition Baby Blue Lacquer with Orange Bass Hoops
£699.00 RRP £890
1 In Stock
Free Mainland UK Delivery
Pay Monthly
Pay up to 50% deposit - adjustable at checkout.
Example deposit of £69.91...
12 Months 13.9% APR - £56.21 P/M
24 Months 9.9% APR - £28.87 P/M
36 Months 9.9% APR - £20.14 P/M
48 Months 9.9% APR - £15.79 P/M
Click HERE for finance FAQ.
PDP Drums Concept LDT Baby Blue Lacquer with Orange Bass Hoops
PLEASE NOTE:Pictures are for illustration purposes only. Please check specs tab for actual sizes and other information. Cymbals and Hardware are NOT included. All Concept Maple finishes are available on any of our listed configurations. Please contact us directly to order/confirm your finish choice if ordered online.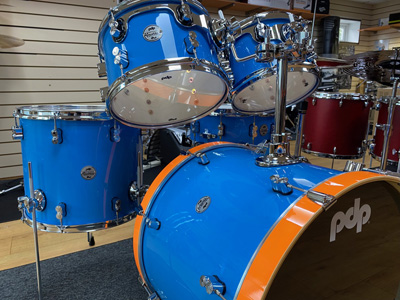 Actual Kit in store
PDP has unveiled the latest entry in its Limited Edition Series - this unique, 5-piece maple kit in a striking Blue-and-Orange combination! Like their close cousins in the Concept Maple Series, these beautifully resonant, boutique-inspired drums were designed in collaboration with the DW Custom Shop.
The drum sizes in this kit were inspired by some of PDP's old-school offerings: 10"x7" and 12"x8" rack toms, a 16"x14" floor tom, 22"x18" bass drum, and 14"x5" snare drum. Like the Concept Series Drums of the PDP flagship line, the Blue/Orange toms and bass drum are made with 7-ply maple shells, with a 10-ply maple snare. The rack toms rest comfortably in DW's advanced Suspension Tom Mounts (STMs), while the floor toms stand on strong, resonant legs. The snares include the DW trusted MAG throw-off, along with fully-chromed snare wires, featuring carbon steel coils and brass end plates. And the bass drum is constructed with die-cast, low-mass claw hooks. Finally, all the Blue/Orange drums are built with DW's True Pitch tension rods, graduated counterhoop thicknesses, our retro-inspired, dual-turret lugs, and world-renowned Remo drum heads.

Want a kit your audience won't forget? Play a PDP Limited Edition Blue/Orange Kit at your next gig, and they'll remember your look and sound!

Concept Series is a new line of PDP drums that are available in both all-maple or all-birch shells. All shells are 7-ply, except for the snare which is 10-ply. Through PDPs research with the DW Custom Shop, they have found some particular detail features that have a big effect on sound and quality. PDP believe that every drummer deserves these features, so they included DW-style STM mounting systems, True Pitch tuning, F.A.S.T. tom sizing, proportional counter hoop sizing*, and Remo drum heads. Snare drums come with the DW MAG throw-off and boutique-style copper wires. Bass drums come with die-cast claw hooks, and all drums feature the new retro-inspired dual-turret tube lug. Concept Maple drums are available in six specialty high-gloss finishes, all with chrome hardware, except for pearlescent black (black hardware). Concept Birch drums share all of the great features of Concept Maple, but with all-birch shells. They are available in two different configurations with a full range of add-on drums. Choose from two transparent lacquer burst options, both with chrome hardware.

A BRAND NEW CONCEPT IN DRUMS IS HERE
What if boutique-inspired drums loaded with pro-features were more affordable? Drummers can now get a wide variety of PDPs most popular Custom Shop sizes and colours without breaking the bank. PDP are proud to introduce a new concept, a completely re-imagined line of PDP drums designed for every drummer. Its called the Concept Series and it has a fresh new look and a sound that already has drummers talking. Choose from Concept Maple or Concept Birch shells in a myriad of todays most popular configurations. You can then add toms or bass drums to build custom-style kits to suit just about every musical style. In addition to all of the above, the Concept range of kits also offer high-end features like STM (Suspension Tom Mounts), True Pitch tension rods, MAG throw-off, die cast low-mass claw hooks, proportionate counter hoops and durable lacquer finishes. All of this combines to provide you with a kit that unquestionably lives up to its DW roots.

TRUE-PITCH PRECISION
To give drummers even more control over their sound, DW created its patented True-Pitch rod system. The rods feature 5mm threads rather than the 12/24 thats standard on most other drums. To compare, there is 1 thread every 0.8mm on our True-Pitch rods (about 20% more threads), versus 1 thread every 1.05mm on most other drums. The result is a more exacting tuning process. True-Pitch rods are only available in chrome and gold.
CONCEPT MAPLE FINISHES
All PDP Concept Maple Drum Kits are available in a number of stunning Premium Lacquer finishes. From Natural Wood Stains to Glitter Fades and High-end Exotic Veneers, there's something for everyone within this range. If you have already placed an order online with us, please call us up to confirm which finish option you would like. Alternatively, please give us a call to discuss current stock availability on required finish/configurations. PLEASE NOTE: The Exotic Walnut finish incurs an additional cost compared to the other available finishes. The Exotic Walnut is available with a 22" Bass Drum only (No 20" option available), and can be configured to a CM5, CM6 or CM7 set-up at an additional cost. Please contact us for exact pricing for the Exotic Walnut if you are looking to purchase as a CM6 or CM7 set-up. The CM5 Exotic Walnut configuration is already listed on our website here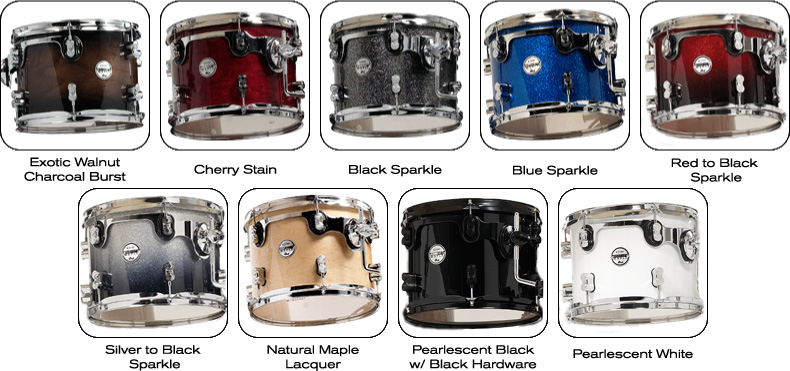 PDP Concept Maple Specifications
Bass Drum: 22"x18" Drilled with Tom Mount
Rack Tom: 10"x7", 12"x8" (STM Tom Mounts)
Floor Tom: 16"x14" (on legs)
Snare Drum: 14"x5"
Shell Material: Maple
Shell hardware: Chrome
Shell surface: Premium Lacquer
Finish: Baby Blue Lacquer/Orange Bass Drum Hoops
PDP Concept Maple Features
Dual-Turret Lug
Graduated Counter Hoops
Die-Cast Claw Hooks
MAG Throw-Off
Copper Snare Wires
7-ply Tom/Kick Shells
10-ply Snare Shell
FAST Sized 4 Piece Kit
Heads by REMO
STM - Suspension Tom Mount System
True-Pitch Tension Rods
Premium Lacquer Finishes
INTRODUCING THE PDP CONCEPT SERIES BY DW DRUMS
PDP CONCEPT MAPLE - EXOTIC WALNUT CHARCOAL BURST
PDP Drums Concept Limted Edition Baby Blue Lacquer with Orange Bass Hoops