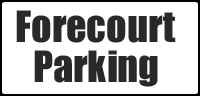 Opening Times
Mon - Sat
9.00am - 5.30pm


Sundays
Closed


2nd/ 3rd June
Closed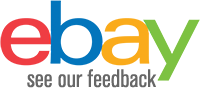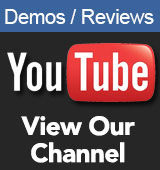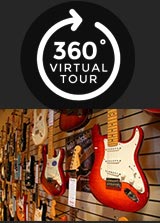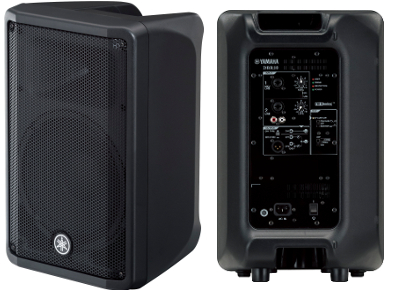 Yamaha DBR 10 - 700w Active Loudspeaker
£319.00 RRP £436
2 In Stock
Free Mainland UK Delivery
Next working day on orders placed before 2pm

Used Model Available

We have Yamaha DBR 10 - 700w Active Loudspeaker available as a pre-owned unit. Call us for details on condition and spec. Click to view list.
What Is The Yamaha DBR10?
The DBR10 is a portable, powered PA speaker for use where loud volumes and high quality audio are required. Making use of a 10inch speaker and 1inch diaphragm HF speaker this lightweight unit is capable of a blistering 700w peak power. Multiple rear input sockets allow you to connect multiple devices such as a mic and a guitar with independent gain controls. It is an ideal speaker for anyone wanting quality, portability and power without breaking the bank.
DBR10 Technology
This speaker features the same state-of-the-art DSP technology found and inherited from its predecessors, ensuring superior performance and versatility, and safe, consistent operation. Yamahas innovative FIR-X tuning utilizes linear phase FIR filters for the crossover, achieving more accurate and smooth response for outstanding clarity and imaging, while D-CONTOUR dynamic multi-band processing applies optimized settings for either front-of-house or floor monitoring applications. The DBR10 also employs many of the same protection functions used in the top-class TXn Series professional power amplifiers, assuring reliable operation for extended durations of usage.
Built-In 700w Amplifier
Built-in class-D amplifiers deliver up to 700W of power, achieving an impressive maximum SPL of up to 132 dB with consistent sound quality and performance. The transducers were carefully selected and then thoroughly customized to perfectly match the amplifiers properties in order to deliver high output power with minimal distortion. The new lineup also features Yamahas extremely accurate wide dispersion constant-directivity horn that evenly projects the DBR10s deep bass, clear midrange and accurate high frequencies to the outer-most edges of a very wide coverage area.
DBR10 Portability
Rugged,compact and light-weight plastic enclosure, fitted with a sleek steel grille and ergonomic handles allowing for fast, safe and easy transportation and setup. The DBR10 also features an optimized 50° wedge angle for floor monitoring use. All models come equipped with rigging points compatible with optional speaker brackets and eyebolts for installed applications.
Multiple Inputs
The DBR10 also features an easy-to-use 2-channel onboard mixer. CH1 has a combo jack that accepts both XLR and TRS Phone, allowing for either Mic or Line level inputs. CH2 also features a combo jack, as well as an RCA pin jack for input from CD players or stereo line-level sources. The mixer allows you to select either CH1+2 MIX, or CH1 THRU to pass the signal from CH1 only.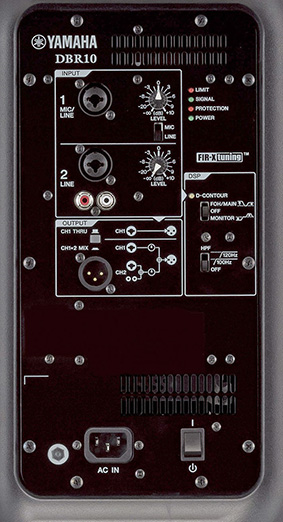 Speaker type: 2 Way Bi-amplified
Connectors: INPUT1: Combo x1, INPUT2: Combo x 1 + RCA pin x 2 (Unbalanced), OUTPUT: XLR3-32 x 1 (CH1 Parallel Through or CH1+CH2 Mix)
Output Power: Dynamic:700 W (LF: 500 W, HF: 200 W) / Continuous: 325 W (LF: 260 W, HF: 65 W)
(W x H x D) 308mm (12.1\") x 493mm (19.4\") x 289mm (11.4\")
Weight: 10.5Kg