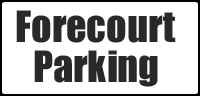 Opening Times
Mon - Sat
9.00am - 5.30pm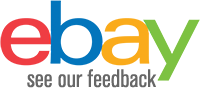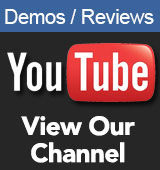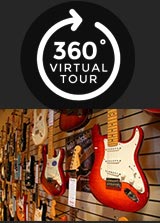 **We are here for online sales and product support - just call 01772 722468**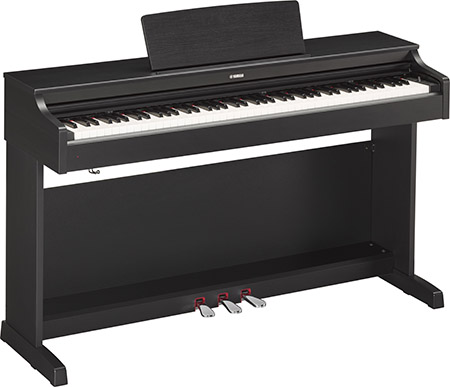 Yamaha Arius YDP-163 Digital Piano - Black Satin
£898.31 RRP £1026
Out of Stock
Available to Order Estimated delivery Call 01772 722468

Pay Monthly
Deposit From £89.83
12 Months 9.9% APR - £70.88 P/M
24 Months 9.9% APR - £37.11 P/M
36 Months 15.9% APR - £27.96 P/M
Yamaha Arius YDP-163 Digital Piano - Black Satin
The best digital piano is one that can grow with a musician as they progress. When a pianist's skill level rises, they require a keyboard action built for more serious playing. The Arius YDP-163 features Graded Hammer 3 keyboard action with three sensors and synthetic ivory key tops, giving the performer a dynamic response and authentic feel. The Pure CF Sound Engine on the YDP-163 expressively delivers the Yamaha CFIIIS concert grand piano tone combined with a powerful 20W + 20W amplifier and speaker system. With 192 note polyphony, many of the most complex piano compositions can be played without dropped notes while sustained passages ring through faithfully.
PIANO SOUND QUALITY ONLY POSSIBLE FROM YAMAHA
The Pure CF Sound Engine is the result of many years of piano-making history and expertise, combined with state-of-the-art sampling technology. Yamaha is the industry leader in digital piano technology and this is evident when listening to Yamaha digital pianos that utilise the Pure CF Sound Engine. The sound of the renowned Yamaha CFIIIS 9' concert grand piano is faithfully reproduced, allowing for incredible dynamics and expressiveness, making Pure CF-equipped digital pianos worthy of the Yamaha name.
SUPERB PLAYABILITY AND FEEL
The Graded Hammer 3 (GH3) 88-key piano action reproduces the touch of an acoustic piano, from the heavy feel in the lower register to a lighter touch in the upper octaves. It also features a three-sensor configuration, which accurately senses and interprets the behaviour of the keyboard in order to provide a grand piano-style response and feel. This allows for quick note repetition and authentic expressive control. The piano keyboard with synthetic ivory key tops provides a tactile surface to the white keys, absorbing moisture from the fingers and preventing them from slipping.
AUTHENTIC PEDAL RESPONSE
Half-damper pedal control creates more detailed nuance and subtlety when playing, similar to pedalling on a grand piano. This feature allows for continuously increasing lengths of sustained notes as the pedal is depressed. Stereo Sustain samples provide mellow reverberations when the player depresses the damper pedal. Similarly, Damper Resonance provides broad and deep resonance when the pedal is used. The result is a more realistic sound, similar to that of an acoustic piano. It is even possible to detect the subtle changes that occur when the player begins to press the pedal while striking a key.
A PIANO WITH ITS OWN CLASSIC REPERTOIRE
The YDP-163 is pre-loaded with a variety of classic piano songs for listening and learning pleasure. You can use the accompanying book, "50 Greats for the Piano" to follow along with the music and learn how to play iconic pieces. You can also play back the songs to enjoy these recognisable piano favourites. This feature is sure to add hours of enjoyment to this outstanding instrument.
CAPTURE YOUR PERFORMANCE
The built-in recording function captures performances* with a single touch. You can record up to 2 tracks for simultaneous playback, enabling both hands to be recorded separately, or allowing you to overlay parts with different voices.
*Recordings are made in Standard MIDI file (SMF) format. Compatible software is required for playback of the recorded data on a computer.
ACCESS YOUR FAVOURITE FEATURES QUICKLY AND EASILY
The Digital Piano Controller app for iOS touch screen devices adds a whole new level of functionality to your Yamaha instrument. Turn your iOS device into an intuitive controller, allowing convenient access to the features of your instrument. Adjust settings, select Voices, and even record performances.
DISCOVER AN INSPIRING COMBINATION
Combine two Voices together, such as piano and strings, for an inspiring new playing experience. Nothing inspires piano practice like playing a piece with a different sound or creating unique combinations of two sounds together. Experiment to discover inspiring new ways to broaden your musical horizons.
OPTIMAL TONE AT ANY VOLUME LEVEL
With the Yamaha Intelligent Acoustic Control (IAC) feature, you can enjoy playing your digital piano at a lower volume in a quiet home environment. Before IAC was introduced, playing at a low volume resulted in a loss of treble and bass. With the development of IAC, the instrument automatically adjusts the balance of bass and treble, creating a more realistic sound with more depth. Additionally, the volume dial automatically makes fine adjustments to the overall sound of the speaker system (EQ) when played at a low volume. The ability to retain a rich and balanced sound on a digital piano, regardless of volume, ensures the highest sound quality.
SUPERB SOUND FROM A COMPACT AND STYLISH DESIGN
The Acoustic Optimiser delivers naturally smooth tonal richness across the entire keyboard by regulating the flow of sound and control of tone from the cabinet of the instrument. Yamaha developed this new technology with an in-depth knowledge of the acoustic properties of musical instruments.
A NEW KIND OF HEADPHONE EXPERIENCE
When playing and listening to the instrument using headphones, the Stereophonic Optimiser adjusts the spacing of the sound and the separation from the piano, resulting in a spacious, surround sound quality that will inspire you to play for hours at a time. Within this private listening environment, the sound of the piano can be perceived to come from the body of the instrument rather than from the headphones, providing a more realistic and natural experience.
CONNECT AND INTERACT WITH YOUR INSTRUMENT
A standard USB cable can be used to connect the instrument to a computer or mobile device, opening up a world of creativity, entertainment, and education. iOS devices can be connected to the instrument using the Yamaha UD-BT01 Bluetooth adaptor, or a Lightning-USB camera adaptor. The instrument can be used to interact as a controller and/or sound source with a variety of music creation applications.
Yamaha Arius YDP-163 Digital Piano Specifications
SIZE/WEIGHT
Dimensions
Width: 1357 mm (53-7/16")
Height: 849 mm (33-27/64")
Depth: 422 mm (16-5/8")
Weight
Weight: 42.0 kg (92 lbs., 10 oz)
CONTROL INTERFACE
Keyboard
Number of Keys: 88
Type: GH3 keyboard with synthetic ivory key tops
Touch Response: Hard/Medium/Soft/Fixed
Pedal
Number of Pedals: 3
Half Pedal: Yes
Functions: Damper, Sostenuto, Soft
Panel
Language: English
CABINET
Key Cover
Key Cover Style: Sliding
Music Rest: Yes
VOICES
Tone Generation
Piano Sound: Pure CF Sound Engine
Damper Resonance: Yes Polyphony
Number of Polyphony (Max.): 192
Preset
Number of Voices: 10
EFFECTS
Types
Reverb: 4 types
Intelligent Acoustic Control (IAC): Yes
SONGS
Preset
Number of Preset Songs: 10 Demo Songs, 50 Piano Preset Songs
Recording
Number of Songs: 1
Number of Tracks: 2
Data Capacity: 100 KB/Song (Approx. 11,000 notes)
Compatible Data Format
Playback: Standard MIDI File (SMF) Format 0 & 1
Recording: Standard MIDI File (SMF) Format 0
FUNCTIONS
Miscellaneous
Dual/Layers: Yes
Duo: Yes
Metronome: Yes
Tempo Range: 5 - 280
Transpose: -6 - 0 - +6
Tuning: 414.8 - 440.0 - 466.8 Hz
STORAGE AND CONNECTIVITY
Storage
Internal Memory: Total maximum size approx. 900 KB (User song : One song approx. 100 KB Loading song data from a computer : Up to 10 songs)
Connectivity
Headphones: Standard stereo phone jack (x2)
USB TO HOST: Yes
AMPLIFIERS AND SPEAKERS
Amplifiers: 20W x 2
Speakers: Oval (12cm x 6cm) x 2
POWER SUPPLY
Power Supply: PA-300C or an equivalent recommended by Yamaha
Power Consumption: 12W (When using PA-300C AC adaptor)
Auto Power Off: Yes
ACCESSORIES
Included Accessories
Song Book: 50 Greats for the Piano
Others: Owner's Manual, Quick Operation Guide