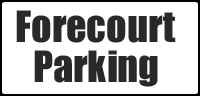 Opening Times
Mon - Sat
9.00am - 5.30pm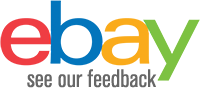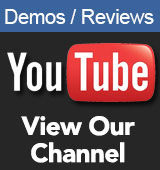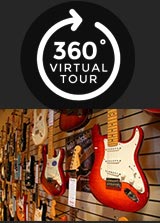 **We are fully open - Online and Instore**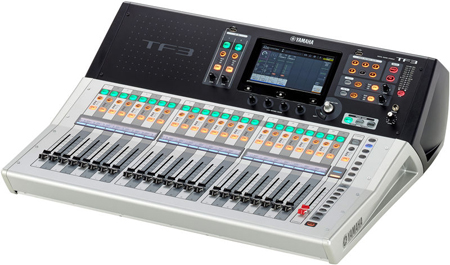 Yamaha TF3 - 24 In 16 Out Digital Mixing Console
£2499.01 RRP £3056
Out of Stock
Available to Order Estimated delivery Call 01772 722468
The Yamaha TF3 is an outstanding professional quality digital mixing console. It offers high quality sound processing at 48kHz, large colour touch screen interface, motorised faders, 8 DSP effects units and a versatile array of features and connectivity for virtually any live/ recording situation you will encounter.
As standard the Yamaha TF3 comes complete with Nuendo Live software, hardcase with wheels, power cable and full Yamaha 2 year warranty. If you are looking for a mixer with superior sound, reliability, a plethora of mixing options, aux connections and more then this is the one to go for. It can even be expanded with Dante connection using the NY64D card which allows for more inputs and outputs on breakout boxes such as the TIO1608.
Yamaha TF-3 Features
24 + 1 fader configuration
Input channels: 40 mono, 2 stereo, 2 return.
Busses: 20 Aux (8 mono, 6 stereo), Stereo, Sub, 4 matrix.
Local I/O: 24 mic/line + 2 stereo line in, 16 out.
Recallable "D-PRE" Microphone Preamplifiers provide an ideal sonic foundation.
Intuitive user interface optimized for touch panel operation.
Traditional Overview and Selected Channel Interfaces
"1-knob COMP" & 1-knob EQ make it easy to dial in the ideal sound
"QuickPro Presets" provide instant access to pro sound setups.
"GainFinder" supports precision gain setup
"DCA Roll-out" enhances group control.
"SENDS ON FADER" buttons instantly bring the specified AUX or FX bus levels up on the faders for easy verification and adjustment.
Seamlessly integrated remote control and offline editing via an Apple iPad or other computing device.
Direct 2-track recording to USB storage devices, or 34 channel multi-track recording/ playback to a DAW via USB.
Multitrack recordings can be used for "virtual sound checks" when performers aren't available.
1 expansion slot for NY64-D audio interface card
Other features: 8 Powerful Processing/Effect Units, User Defined Knobs, User Defined Keys, 8 DCA groups, and more.
Remotely Control Mixes And Monitor Feeds
Yamaha's custom apps allow remote in-depth control and mixing for the engineers through to custom monitor mixes for the musicians. Apps include:
TF Editor - Complete interface for editing and setup of TF Consoles
TF StageMix - allowing remote mixing from audience seating, in front of floor monitors, or any other listening position. It can also be used at the console as an extension of the console's own interface
MonitorMix - Allows individual wireless AUX mixing from up to 10 iPad, iPhone, iPod touch or Android devices simultaneously. Each performer can have convenient control over the AUX/ Monitor mix assigend to them
Yamaha TF3 Specification
Channels: 24 - expandable to 48 mixing channels (40 mono + 2 stereo + 2 returns)
Inputs - Mic Preamps: 24 mic/line (XLR/TRS combo) + 2 stereo line (RCA pin)
Phantom Power: 24 x Channels
Inputs - Other: 2 x Stereo (RCA), 1 x 1/4" (Footswitch)
Outputs - Main: 16 x XLR
Aux Sends: 8 x mono, 6 x stereo
Busses/Groups: 20 x Aux, 1 x Stereo, 1 x Sub
Data I/O: Ethernet (remote control of Tio1608-D for additional 16 channels)
USB: 2 x Type A, 1 x Type B
Computer Connectivity: USB (34 x 34)
I/O Expansion Slots: NY64-D audio interface card
Headphones: 1 x 1/4"
Faders: 100 mm motorized, Resolution = 10-bit, +10 dB to -138 dB
EQ Bands: 4-band
Effects: 8 Effects + 10 GEQ
Dimensions: 716 mm (28.2in) x 225 mm (8.9in) x 599 mm (23.6in)
Weight: 17.0kg