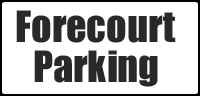 Opening Times
Mon - Sat
9.00am - 5.30pm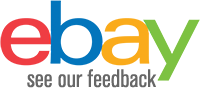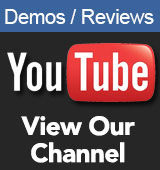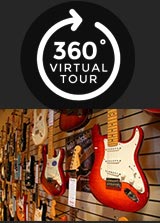 **We are here for online sales and product support - just call 01772 722468**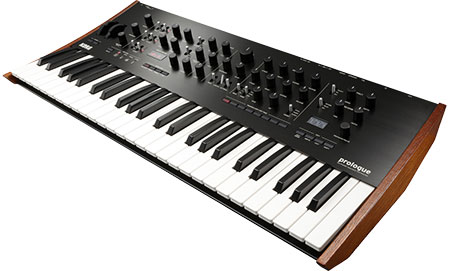 Korg Prologue 8
£939.00 RRP £1299
Out of Stock
Available to Order Estimated delivery Call 01772 722468

Pay Monthly
Deposit From £93.90
12 Months 19.9% APR - £77.59 P/M
24 Months 19.9% APR - £42.30 P/M
36 Months 19.9% APR - £30.67 P/M
The Korg Prologue 8 combines incredible analogue sound and circuitry with the addition of a modern digital multi-engine allowing incredible sound combinations and sound versatility. High quality real-time controllers make sound modification easy and quick. Reverb and delay effects really bring the finishing touch to bring the sounds to life.
Main Features:
8-voice analog synthesizer circuit.
Newly developed multi-engine equipped with three types: noise, VPM, and user.
High-quality digital effects.
An open API (Application Programming Interface) for user-created oscillators and effects
Newly developed L.F. COMP. (Low Frequency Compressor) analog effect (prologue-16 only).
Bi-timbre support.
Voice modes that allow voices to be flexibly recombined.
Arpeggiator equipped with a variety of types and range settings.
Program Sort allows rapid access to 500 programs.
Japanese-made high-quality natural touch keyboard.
Oscilloscope function shows the waveform visually.
Tough and stylish body made of aluminum and wood.
Sync with another groove machine to enjoy jam sessions.
Lineup includes a 16-voice 61-key model and an eight-voice 49-key model.
8 Voice Anaologue
The Prologue 8 is a polyphonic analog synthesizer with 8 multitimbral voices. Although the prologue is a flagship instrument, it still retains the inviting feel and accessibility of its predecessors. It features a pure analog path, impeccable sound quality, stunning presence unlike any other poly synth, and the same intuitive interface as the minilogue and monologue, granting you intuitive access to a vast world of analog synthesis.
Prologue 8 uses a structure of 2VCO + MULTI ENGINE, 1VCF, 2EG, 1VCA, and 1LFO. In addition to distinctive, original circuitry, such as wave shaping to shape the oscillator's overtones and a sync/ring switch, prologue also features a two-pole low pass filter with enhanced sharpness, drive that adds powerful distortion, and a low cut (high pass) switch. Every detail has been improved on from minilogue and monologue. Its sound covers every sonic possibility: fat basses, powerful leads, and the beautiful pads that you expect from a polyphonic synthesizer.
Newly Developed Multi-Engine
The newly developed multi engine is provided as VCO3, adding digital waveforms and FM. This multi engine, which is equipped with three different sound engines, can be combined with the analog VCOs to expand prologue's sonic potential far beyond that of a traditional analog synthesizer.
Noise generator
There are four types of noise generator, indispensable for percussive sounds or sound effects. Experience how digital filtering can produce direct changes in the color of the noise.
VPM oscillator
The VPM (Variable Phase Modulation) / FM oscillator was newly developed for prologue. Its metallic and sharp sounds with their complex overtones could never be obtained by analog means. With 16 types of oscillator and the SHAPE knob, you'll be intuitively guided through complex sound design. Combine these wave shapes with prologue's gorgeous analog filters, and prepare for sounds you never thought possible.
User oscillator
The user oscillator section lets you load oscillator programs of your own creation. Sixteen slots are provided, and one type of morphing wavetable oscillator is built-in as a preset.
Digital Effects
The high-quality digital effects feature pristine 32-bit floating-point processing, and add a further polish to the sound of the Prologue 8. With two effect units provided (a modulation effect and delay/reverb), you can choose from a wide variety such as chorus or ensemble, warm tape delay, or diverse reverbs. The user effect slots let you load effect programs of your own creation.
User Customised Sounds - SDK
The prologue offers an SDK (Software Development Kit) that allows developers to program, customize and extend the capabilities of the multi-engine and digital effects and is expected to be available for download in the spring of 2018. The prologue provides 16 user oscillator slots and 16 user effect slots, and users can use the prologue Librarian software (also expected to be available for download in the spring of 2018) to load into their prologue new oscillators and effect programs created by developers with the prologue SDK (Software Development Kit).
What types of sound will you create by combining the expanded digital oscillators with analog synthesis? You can create original programs and share code to participate in the user community. Start with sample code provided by KORG. The prologue belongs to you.
Four Voice Modes
The prologue provides voice modes that let you freely combine the 8 voices for performance. The standard POLY mode lets you play chords with up to 8-note polyphony. MONO mode is ideal for bass using the sub-oscillator. UNISON allows you to generate thick lead tones by sounding all voices in unison. CHORD lets you play chords with one finger. In conjunction with the DEPTH knob, you can use these modes to obtain a variety of effects.
Arpeggiator
The powerful arpeggiator opens up a world of limitless inspiration. It provides a four-octave range, and six arpeggiator types including manual set. From phrases that could not be performed on a keyboard to sequence-like sound designs, the arpeggiator can play a versatile array of roles.
Japanese Made Keyboard
Taken from the likes of the flagship KRONOS workstation, the high quality feel and response is offered up on a Japanese made keyboard offering a premium touch and response.
Technical Specification - Prologue 8
Keyboard: 49 keys (Natural touch keyboard with velocity)
Sound Generation: Analogue sound generator + Multi digital sound generator (Noise, VPM, User)
Maximum Polyphony: 8 voices
Programs:
500 voices (more than 250 preload, 250 user programs).
Each program provides a program sort function that includes voice mode and timbre settings, and allows up to 8 4 banks of live set programs to be registered
Voice Mode:
4 (POLY, MONO, UNISON, CHORD)
The VOICE MODE DEPTH setting allows different parameters to be varied for each mode
Timbres: Max two timbre (Main timbre, Sub timbre)
Layer, crossfade, and split settings are possible
Arpeggiator: 6 types (Manual, Rise, Fall, Rise Fall, Random, Poly Random)
Tempo and note range can be changed
Program Sort: 8 (PROG NUM, CATEGORY, ALPHABETICAL, LIKE, FREQUENT, ENVELOPE, RANDOM, LIVE SET)
Main Synth Parameters
VCO1: WAVE (SAW, TRIANGLE, SQUARE), OCTAVE, PITCH, SHAPE
VCO2: WAVE (SAW, TRIANGLE, SQUARE), OCTAVE, PITCH, SHAPE
MODULATION: PITCH EG (ALL, VCO1+2, VCO2), PITCN EG INT, SYNC, RING, CROSS MOD DEPTH
MULTI ENGINE:NOISE/VPM/USER, OCTAVE, TYPE, SHAPE
MIXER: VCO1, VCO2, MULTI
VCF: CUTOFF, RESONANCE, EG INT, DRIVE, LOW CUT, KEYTRACK
AMP EG: ATTACK, DECAY, SUSTAIN, RELEASE
EG: ATTACK, DECAY, SUSTAIN, RELEASE
LFO: WAVE (SAW, TRIANGLE, SQUARE), MODE (FAST, SLOW, BPM), RATE, INT, TARGET (PITCH, SHAPE, CUTOFF)
Main Effect Parameters: MOD EFFECTS: OFF/ON/SELECT (CHORUS, ENSEMBLE, PHASER, FLANGER, USER), SPEED, DEPTH
DELAY/REVERB: OFF/DELAY/REVERB, TIME, DEPTH
MULTI ENGINE:
Noise Generator: 4 types
VPM oscillator: 16 types
User oscillator: 16 slots
MOD EFFECTS: CHORUS: 8 types
ENSEMBLE: 3 types
PHASER: 8 types
FLANGER: 8 types
USER: 16 slots
DELAY/REVERB:
DELAY:8 types
REVERB: 8 types
Controls:
Wheels: Modulation wheel that can modify different parameters for each program, pitch wheel
Knobs: PORTAMENTO knob
Display:
Main: Real-time OLED oscilloscope provides visual feedback of parameter changes
MULTI ENGINE section: 7 segments x 6 digit LED display
Input/Output connectors:Headphone jack: (Stereo phone jack)
OUTPUT: L/MONO, R jacks (monaural phone jack unbalanced)
SYNC IN: jack (3.5 mm [1/8"] mini jack, maximum input level 20 V)
SYNC OUT: jack (3.5 mm [1/8"] mini jack, output level 5 V)
MIDI: IN/ OUT Jack
USB: B jack
EXPRESSION: jack
DAMPER: jack (half damper is not supported)
Dimensions: 709 mm x 348 mm x 118 mm/27.91" x 13.70" x 4.65"
Weight: 7.5 kg/16.53 lbs.