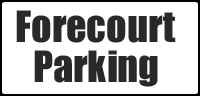 Opening Times
Mon - Sat
9.00am - 5.30pm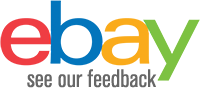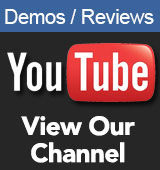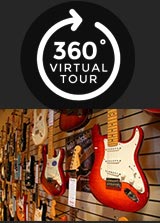 **We are fully open - Online and Instore**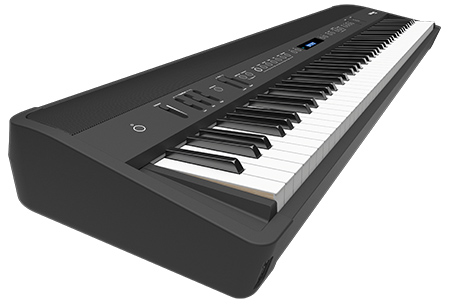 Roland FP-90 Digital Piano - Black
This instrument is discontinued
FP-90 Digital Piano
A Portable Piano with Premium Performance and Go-Anywhere Creativity as Standard
If you play the piano, you understand that inspiration can come from anywhere-where you play, who you play with, and of course, the audience you perform for. If you want to take your music to the people, the Roland FP-90 Digital Piano will help you get there. It packs Roland's flagship piano sound engine and keyboard into a sleek, modern cabinet that also houses a multi-channel speaker system with enough power for performing in intimate venues. A carefully selected range of additional sounds that include electric pianos, strings, organs, and synths are on hand as well, allowing you to use the FP-90 in a wide variety of musical scenarios. And with Bluetooth audio/MIDI support, you're able to connect wirelessly with Roland's Piano Partner 2 and other music apps on a smartphone or tablet. Available in black or white finishes, the flexible FP-90 is ready to go wherever you want to play.
Portable piano with premium performance and go-anywhere creativity.
Authentic grand piano touch from the PHA-50 (Progressive Hammer Action with Escapement) keyboard, which combines wood and molded materials for great feel and lasting durability
Uses the latest SuperNATURAL Piano Modeling technology instead of conventional sampling for a far richer, more detailed piano sound
Four speakers provide powerful and rich sound that's ideal for intimate live performances
Premium selection of electric piano, strings, organ, and synth sounds, along with 30 registrations for storing favorite sound setups, including layers and splits for live performance
Mic input and vocal effects
Connect your smartphone or tablet via Bluetooth wireless technology and play along with audio from your apps routed through the piano's speaker system
Enhance performances with rhythm accompaniments from Roland's Piano Partner 2 app
Flat, portable cabinet in black or white finishes
Optional KSC-90 stand and KPD-90 pedal provide an elegant integrated look for home use
Compatible with DP-10 Damper pedal (included) or RPU-3 Triple Pedal (optional)
Superior Piano Sound and Touch in a Go-Anywhere Portable Format
Why should a portable piano mean you have to compromise on sound quality and keyboard feel? With the FP-90, you don't have to settle for less, as it includes the sound engine and premium keyboard construction from our flagship pianos housed in a stylish, mobile body. Roland's SuperNATURAL Piano modeling technology is a unique modeling process that spans the entire sound creation process of an acoustic piano, including the combination of notes played, their resonance, and the way in which the piano's many elements interact with each other. The result is a rich, complex sound - complete with overtones - that actually changes in response to the way you play. Then there's the PHA-50, a new type of keyboard that blends wood and molded materials for the best of both worlds. Beautiful wooden sides give each key a familiar, rigid mass that feels just right to play, while the durable inner frame means you can enjoy the FP-90 for years to come without worrying about reliability.
Powerful Onboard Speakers Suitable for Primary Amplification in Smaller Venues
The FP-90 is equipped to sound great no matter where you play it. The discrete onboard bi-amp system delivers rich, powerful sound to the main speakers and sparkling high-end to the newly-developed dome tweeters, so your audiences will enjoy wide dynamic range and precise reproduction of each acoustic element. And with the convenient three-band equalizer on the front panel, you can easily adjust the sound to fit the venue. Whether you're just using the onboard speakers in smaller venues or connecting to an external PA on larger stages, you'll always have amazing sound with the FP-90.
Versatile Pro-Quality Sound Selection for Any Style of Performance
You expect a Roland digital piano to have a great selection of piano sounds, and the FP-90 certainly delivers. But what happens when you're playing a gig and need something other than the classic piano sound? The FP-90 has you covered with a selection of pro-grade electric pianos, strings, organs, and synths, giving you sound options to play nearly any style. You can store these favourite sounds - along with other useful settings like layers and splits - in 30 user registrations for quick recall. With dedicated Upper and Lower volume sliders on the panel, it's easy to adjust sound balances on the fly. If you sing as well, the mic input and dedicated vocal effects like compression, doubling and reverb let you get great vocal sounds without any extra gear. You can even record whole performances to USB memory in WAV or MP3 format for sharing with others!
Bluetooth Connectivity Enhances the Way You Perform and Practice
These days, people often play piano along with favorite songs stored on their smartphone. With built-in Bluetooth wireless support, the FP-90 goes one step further by letting you stream music through the piano's powerful internal speakers for a far more immersive experience. Loading Roland's free Piano Partner 2 app on your tablet lets you get even more creative, providing access to rhythm accompaniments in genres including pop, jazz, and blues. They even follow the chords you play, and it all happens wirelessly thanks to Bluetooth technology.
Flexible Enough to Play Wherever You Want
While the FP-90 is packed with the latest technology and time-saving features for the busy musician, the exterior design is simple and refined. Even though it's a portable piano, the FP-90 looks great at home too, especially when paired with the optional KSC-90 stand and KPD-90 pedal for a fresh, contemporary look. The KSC-90 stand is stable and durable despite its simple, modern design, while the KPD-90's three-pedal configuration supports Progressive Damper Action, which provides continuous response for traditional playing techniques.
Roland FP-90: Digital Piano Specifications
Sound Generator
Piano Sound
Piano Sound: SuperNATURAL Piano Modeling
Max. Polyphony
Piano: Limitless (solo playing using "Concert Piano, Ballad Piano, Mellow Piano, and Bright Piano" tones)
Other: 384
Tones
Piano: 15 tones
E.Piano: 16 tones
Strings: 11 tones
Organ: 15 tones
Pad: 15 tones
Other: 278 tones (including 8 drum sets, 1 SFX set)
Keyboard
Keyboard
PHA-50 Keyboard: Wood and Plastic Hybrid Structure, with Escapement and Ebony/Ivory Feel (88 keys)
Touch Sensitivity
Key Touch: 100 types, fixed touch
Hammer Response
Keyboard Modes
Whole
Dual
Split (split point adjustable)
Speaker System
Speakers
Speakers: 8 x 12 cm (3-3/16 x 4-3/4 inches) x 2 (with speaker box)
Dome Tweeters: 2.5 cm (1 inches) x 2
Headphones
capable of Headphones 3D Ambience
Tuning, Voicing
Master Tuning
415.3--466.2 Hz (adjustable in increments of 0.1 Hz)
Temperament
10 types (Equal, Just Major, Just Minor, Pythagorean, Kirnberger I, Kirnberger II, Kirnberger III, Meantone, Werckmeister, Arabic), selectable temperament key
Effects
Ambience
Equalizer (3-band digital equalizer)
Only for organ tones: Rotary Speaker Effect
Only for E.Piano tones: Modulation Speed
Piano Designer (Only for "Concert Piano, Ballad Piano, Mellow Piano, and Bright Piano" tones)
Lid
Key Off Noise
Hammer Noise
Duplex Scale
Full Scale String Resonance
Damper Resonance
Key Off Resonance
Cabinet Resonance
Soundboard Type
Damper Noise
Single Note Tuning
Single Note Volume
Single Note Character
Rated Power Output
Volume Level (SPL)
107 dB (This value was measured according to the method that is based on Roland's technical standard.)
Bluetooth
Audio: Bluetooth Ver. 3.0 (Supports SCMS-T content protection)
MIDI, Turning music sheet: Bluetooth Ver. 4.0
Mic
Effects
Controls
Mic Gain knob
Mic Volume slider
Data Playback
Playable Software
Standard MIDI Files (Format 0, 1)
Audio File (WAV, 44.1 kHz, 16-bit linear format, MP3, 44.1kHz, 64kbps - 320kbps, require USB Flash Memory)
Internal Songs
Total 10 songs

Recorder

Recordable Software

Standard MIDI Files (Format 0, Approx. 70,000 notes memory)
Audio File (WAV, 44.1 kHz, 16-bit linear format, require USB Flash Memory)

Convenient Functions

Metronome (adjustable Tempo/Beat/Down beat/Pattern/Volume/Tone)
Transpose (Keyboard/Song: in semitones)
Registration (30 registrations, capable of pedal shift)
Registration Set
Tone Demo
Auto Off

Other

Display

Graphic LCD 132 x 32 dots

Connectors

Volume slider
Equalizer sliders (Low/Mid/High)
Part sliders (Lower/Upper)
Song Vol. slider
Speaker switch

Connectors

DC In jack
Pedal (Damper/R, Sostenuto/C *1, Soft/L *1) jacks: TRS 1/4-inch phone type
Input jacks: Stereo miniature phone type
Output (L/Mono, R) jacks: 1/4-inch phone type
Mic Input jack: 1/4-inch phone type
MIDI (Out/In) connectors
USB Computer port: USB B type
USB Memory port: USB A type
Phones jack x 2: Stereo miniature phone type, Stereo 1/4-inch phone type

*1: Assignable

Power Supply

Power Consumption

Dimensions
Detached music rest:

1,340 (W) x 390 (D) x 136 (H) mm
52-13/16 (W) x 15-3/8 (D) x 5-3/8 (H) inches

FP-90 with KSC-90 and music rest:

1,340 (W) x 418 (D) x 932 (H) mm
52-13/16 (W) x 16-1/2 (D) x 36-3/4 (H) inches

Weight

23.6 kg, 52 lbs 1 oz (FP-90 with music rest)
37.8 kg, 83 lbs 6 oz (FP-90 with KSC-90, KPD-90, and music rest)

Accessories

Owner's Manual
Leaflet "USING THE UNIT SAFELY"
AC adaptor
Power cord
Music rest
Damper pedal (DP-10; capable of continuous detection)

Option (sold separately)

Dedicated stand: KSC-90
Dedicated pedal board: KPD-90
Keyboard stand: KS-G8B, KS-18Z, KS-12
Pedal unit: RPU-3
Damper pedal: DP series
Pedal switch: DP-2 (*2)
Expression pedal: EV-5
USB Flash Memory

*2 Cannot use for Damper/R.
FP-90 Digital Piano. Powerful onboard speakers suitable for primary amplification in smaller venues
Roland FP-90 Digital Piano. Superior piano sound and touch in a go-anywhere portable format
Roland FP-90 Digital Piano. Bluetooth connectivity enhances the way you perform and practice
Roland FP-90 Digital Piano. Flexible enough to play in any location
Roland FP-90 Digital Piano. Versatile, pro-quality sound selection for any style of performance.