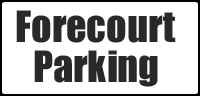 Opening Times
Mon - Sat
9.00am - 5.30pm


Sundays
Closed


2nd/ 3rd June
Closed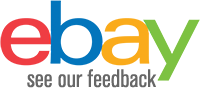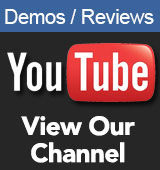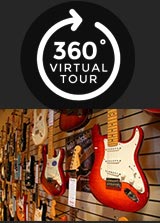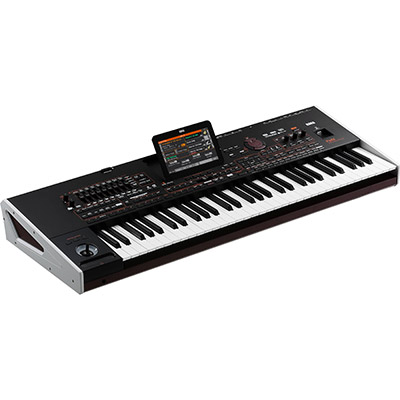 Korg PA4X Keyboard With PAAS Used
This instrument is discontinued
£2899.00 RRP when new £3750
1 In Stock
Free Mainland UK Delivery
Next working day on orders placed before 2pm
Pay Monthly
Pay up to 50% deposit - adjustable at checkout.
Example deposit of £289.91...
12 Months 13.9% APR - £233.14 P/M
24 Months 13.9% APR - £124.14 P/M
36 Months 13.9% APR - £88.01 P/M
48 Months 13.9% APR - £70.10 P/M
Click HERE for finance FAQ.
Korg Pa4x is no longer current - Our Stock listing refers to secondhand instruments - Call us for details
Korg has spent decades innovating new technologies designed to propel every keyboard performance to the highest level of excellence. Korgs flagship keyboard Pa4X Keyboard maintains this attribute with awesome refinements to every partof the sound quality - and with improved performance capabilities. The Pa4X Keyboard is more than a keyboard. It's your accompanist; your backup band;and your musical director. It does everything Best of all - you're always the boss!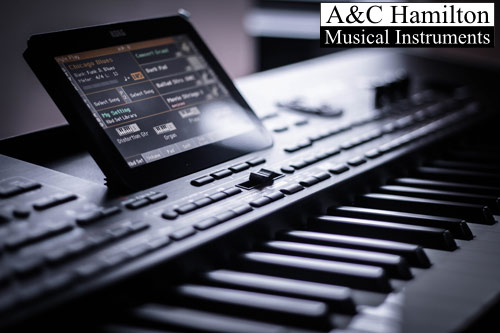 Ideal for composing, recording, and combo use, the easy to use Pa4X really comes to life in the hands of musicians. Every aspect of Korg`s industry-leading Keyboard series has been re-examined and improved, resulting in the Pa4X - a Keyboard without equal. The all-new EDS-X (Enhanced Definition Synthesis - Expanded) sound engine delivers exacting realism and beautiful rich sounds, using a massive PCM resource over ten times larger than those found in the previos PA3x. Korg`s exclusive DNC (Defined Nuance Control) provides highly-articulate solo instruments. Partnerships with Waves Audio and TC Helicon provide state-of-the-art audio processing and vocal effects. Plus, there are tons of new instruments and drum-kits, along with a massive infusion of Styles to cover a world of musical genres.
Korg PA4X Bonus Extras - Why Buy From Us?
When you buy a Korg PA4X keyboard from A&C Hamilton you will receive a whole bunch of extras completely unique to us. The extras are at no extra charge and gives you a big benefit to dealing with our store. Extras include:
Hundreds of additional bonus styles
Custom modified MIDI to style, style conversions - perfect for playing popular songs
Custom Set Lists - Hundreds of additional songbook entries with new sound setups and style modifications created by our experts
Musicals Set List - A whole set list of musicals settings ready to play your most favourite and famous musical pieces
Expert Support - Get lifetime product support by experts just a phone call away. Need help with anything - don't get stuck, just call us and we can assist much quicker than reading the book!
3 Years Warranty - You must register your product with Korg within the first month in order to qualify for the 3 year warranty. If you need any warranty assistance you can come direct through us to save you hassle
Data Transfer - Have old data from PA3X or other Korg products? Our Experts can assists with transferring your data across to the PA4X and will take care of your data transfer for you
Korg Tutorial DVD - 9 step Official Korg Tutorials for the PA4X on DVD
Want a Part Exchange Deal? - Call us for custom quotes on exchange prices and finance deals.

Korg Osimo
The new Osimo software is a fantastic add-on for your Pa4X. Osimo has been developed by the specialists at Korg to provide a simple way to access great song settings. They have created a range of set lists with famous name settings for popular songs alongside many other bonus settings so you can instantly select and play. This magnificent software is provided free by us with your Pa4X purchase.
We also have an instruction sheet available to make using your new Osimo software very easy. View the installation guide here
PA4X V3 Upgrade
The new Pa4X V3 Software (Korg OS NEXT) refreshes the PA4X keyboard and enhances the capabilities of the instrument. Best of all its a completely free upgrade! Pa4X NEXT includes a host of new features. These include:
New Dark Glimmering user interface - designed to make it cleaner and easier to view the screen
New direct reading of samples from USB making up to 1.5Gb of sample space available (uncompressed)
New copying of keyboard sets between styles and songbook entries
New drawbar organ screen to enhance ease of use and access
New record screen - consolidates all different record options in one place independent of current play mode
New quick record screen more represents the standard play screen to make it easier to use
Plus a whole bunch of other new stuff such as smoother operation, bug fixes, locking of keyboard sets and more!
Users may download Pa4x OS V3 at the official Korg website. Our customers benefit from full technical support and help with installation and upgrade of the firmware.
Korg Pa4X keyboard
From the original SAS-20; through the i, iS, and iX Series; to the highly acclaimed Pa Series; Korg`s arranger keyboards have been used by hundreds of thousands of music professionals across the planet. The Korg Pa4X with powerful new technology and progressive input and ideas from leading performance musicians from around the world honours this rich history. The result is a combination of intuitive control, and innovative features, unbeatable sound quality, - The Korg PA4X cabinet strong, and stylish aluminum case built for beauty and strength.
Authentic Articulation - Korg Pa4X keyboard
The Pa4X relies on Korg`s advanced EDS-X (Enhanced Definition Synthesis-eXpanded) sound engine, and comes complete with over 1,500* ready-to-play sounds. Included is a new multi-layer stereo grand piano (with damper and body resonance), plus electric pianos from the acclaimed KORG SV-1 Stage Piano. In addition, the Pa4X has been equipped with new wind instruments, strings, basses - even acoustic and electric guitars. Sounds have been painstakingly captured using state-of-the-art methods that allow the finest of details to be accurately reproduced. The digital drawbar organ includes key on/off noises, leakage, and Rotary Speaker emulation.
Bring any solo or melody to life with the growl of a passionately-played saxophone; the changing embouchure of a trumpet; the breath elements found in a clarinet or harmonica; and the added characteristics that give extra authenticity to the pizzicato and arco sounds of a string section. Three assignable switches, the four-way joystick - even a ribbon strip - allow Korg`s unique DNC (Defined Nuance Control) to reproduce the subtle nuances and articulations of acoustic instruments creating ultra-realistic performances rich in expression - all in real time and on demand.
Conduct your own sampling session and take advantage of the complete sample recording and editing features found in the Pa4X. More than 90* authentic drumkits - including Ambient Drums - breathe life into any rhythmic passage; the Drum Family Easy Editing feature offers total control over volume, pitch, EQ, and more. An additional 400 MB* of user memory allows new sounds to be added quickly and easily using KORG, WAV, AIFF, and SoundFont formats.
Streamlined Construction; Intuitive Design; Fantastic Feel - Korg Pa4X keyboard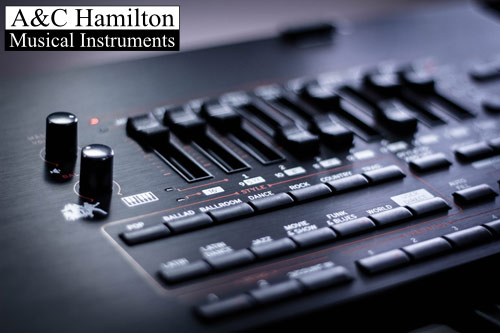 Both the Pa4X-76 and Pa4X 61 feature a naturally-responsive and semi-weighted keybed that provides both velocity and aftertouch sensitivity. The dynamic response is adjustable to accommodate any playing technique.
The main panel has been optimized to ensure that all controls are ergonomically positioned and intuitively located to make every performance feel smooth and natural. The entire screen can be tilted forward and back to provide the perfect angle for optimum viewing.! Searching for that song, Style, or file that you were just using? The multi-function Search feature can find what you are looking for - quickly! Styles and Keyboard Sets can be read directly from a USB drive without the need to load data in the internal memory.
For those seeking an all-in-one solution, experience the optional PaAS Speaker System. This easy-to-use add-on provides spectacular sound for home and rehearsal use - or as a personal performance monitor. The bi-amped PaAS sound system contains five loudspeakers in a sleek cabinet that attaches directly to your Pa4X. Best of all, installation takes only seconds; no tools are required; no cables are needed, and no power supply is necessary.
Do it with Style - Korg Pa4X keyboard
Each Style is a fully realized musical environment dedicated to reproducing a specific musical genre, and the Pa4X is packed with over 500* of them. Play along with these styles which cover song styles from around the world, from the past right up to today. These highly-versatile Styles have been created by Korg`s international sound team to provide an extremely musical experience. New Styles have been added, and many cherished Styles have been brought up to date with new sounds, enhanced effects, and re-balanced mixing. In addition to drums, percussion, and bass, each Style can provide up to five additional instrument parts that follow your chord changes and voicings, as well as the tempo.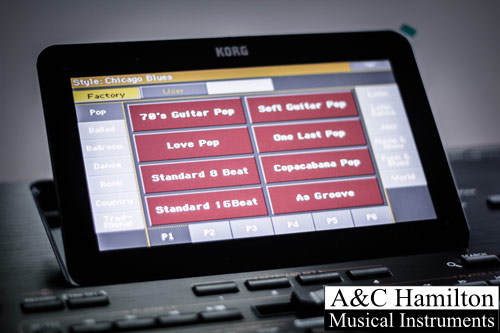 Guitar Mode 2 makes the Style's guitar tracks more authentic than ever before possible. In addition, each Style can be enhanced by using the four Pads. Each Pad can add a one-time or repeating riff, a percussion part, an accent sound, or even a sound effect. You can even program your own Pad riffs and phrases. And of course, each Style features an assortment of Intros, Variations, Breaks, Fill-Ins, Endings - even a count-in.
The convenient Chord Sequencer function can quickly record and loop your chord progressions on the fly in Style Play mode.
Studio-Quality Effects - Korg Pa4X keyboard
KORG is known for studio-quality effects, and the Pa4X includes the best of the KORG library. 4 Insert and 3 Master effects can be used for the accompaniment tracks, while 1 Insert and 2 Master effects can be used for the real-time keyboard tracks. Over 140 effect types are available Each track features an EQ with Low, Mid and High controls, and a custom track EQ can be memorized in the Song Play mode The final effects are the result of Korg`s long term cooperation with Waves Audio, the world reference in studio mastering effects. The included Waves MAXX AUDIO suite delivers sound that is louder and clearer.
TThe latest Styles - today! - Korg Pa4X keyboard
Thanks to an all new built in SMF (Standard MIDI File to Style converter), you can quickly and easily have on board styles of the latest songs! Just obtain a new Standard MIDI File, load it into the Pa4X and the inbuilt converter will easily and quickly turn it into a full KORG style which you can save and recall any time you need it.C Helicon Voice Processor - Korg Pa4X keyboard
Korg`s long term partnership with the world leader in vocal harmonies, TC Helicon, continues in the Pa4X. The TC Helicon Voice Processor that vocals have the highest possible sound quality: up to 4 realistic harmony voices are available, and all can be controlled using the keyboard or MIDI events. . Dedicated knobs (3) and buttons (3) for controlling the most important Voice Processor functions have been added to the top panel and placed within easy reach. The Adaptive Mic Setting - another Korg exclusive - monitors the input signal and auto-adjusts parameters such as the Adaptive Gate, EQ, Compression and the De-Esser to make the vocals sound smooth and "studio produced." Just plug your microphone into the balanced XLR connection (phantom power available) and let the Pa4X do the rest!
The SongBook - Korg Pa4X keyboard
The SongBook is a fully programmable and easily searchable Music Database. Each entry contains all the settings required to play a particular song. The SongBook can save and access Styles, MIDI files, or MP3s and immediately recall settings. Everything needed to play your song back perfectly is in the SongBook. This incredibly useful performance feature is another Korg exclusive. A more refined Filter feature allows you to search for entries using a combination of different criteria. The SongBook includes also a renewed Set List function, with a convenient panel-button association for fast recall, to make life easier during live gigs. With the SongBook Editor you can view, create, and edit your KORG Pa-Series SongBook entries and Set Lists using a Windows based computer. It can also be synchronized with iOS and Android tablets.
XDS Dual Player/Recorder - Korg Pa4X keyboard
Korg's XDS Dual Player & Recorder features a crossfade slider, load one as the other plays, then crossfade between them. Two different MP3 or MIDI files can be played simultaneously. MIDI files and even MP3 files can be transposed, sped up or slowed down. There is also a Marker Function to allow direct jumps to a given position in the song, or to create loops between song sections. The "MP3+G" (also known as MP3+Graphics) format and other popular lyric formats are supported. This feature allows MP3 files to play with lyrics and graphics that can be displayed on the built-in display or on an external monitor - or both. The Vocal Remover quickly eliminates the vocal track from MP3 songs. The 16-track recorder allows sophisticated levels of sequencing and editing, and also provides quick and easy song creation using the Backing Sequence and Style functions. The Pa4X can record your entire performance; you can play back a song, play the keyboard, sing along, and everything will be recorded and saved as an MP3 file. You can then play that MP3 file again to add a further keyboard track or voice using the well known "sound on sound" technique. Using the note data saved in a MIDI file, the Pa4X can display traditional musical notation with notes and/or chords, together with lyrics and chord abbreviations. This sophisticated Score Viewer can be seen on the internal TouchView screen, or displayed on an external video monitor. Chord names can also be seen.
Connectivity, Data Storage, and Updates - Korg Pa4X keyboard
In addition to the Main Left and Right outputs, the Pa4X includes two additional assignable outputs. This can be ideal for isolating a part for additional signal processing or feeding an external mixer. A headphone output is located on the front panel. The microphone input uses an XLR connector, and has phantom power For inputs, the Pa4X has a pair of balanced 1/4" inputs (Line 1) and a stereo 1/8" jack (Line 2) for use with smartphones, mobile devices, etc. MIDI In, Out, and Thru connectors are provided, as well as a USB to computer (Device) port. The composite RCA video shows score and lyric display (or simply mirrors the internal display) to an external monitor.
The Pa4X 76 includes an internal hard drive (available as an option on the Pa4X 61). A convenient micro SD slot (with protective plastic cover) is located on the back panel Two USB Host ports - one on the front panel, one on the rear.
Firmware Upgrades
Korg PA4X is always evolving and Korg upgrade and add new features and capabilities to the instrument for free via download from the Korg website. The recent V1.20 software release has new quarter tone scale features, new assignable slider and switch capabilities and it is also possible to compress samples to double your capacity for sampling from 400mb to 800mb.
KORG PA4X Professional Arranger Workstation Features
2 models to choose from: 76-key or 61-key
Semi-weighted keys with velocity sensitivity and aftertouch.
Elegant, streamlined aluminum cabinet
Huge 7-inch capacitive TouchView display with tilting system.
Easy-to-use panel layout and intuitive redesigned graphical interface
New EDS-X (Enhanced Definition Synthesis-eXpanded) sound engine
Improved realism and pristine sound quality
Massive internal ROM with a renewed PCM database
Plus up to 400* MB of user PCM data
Over 1,500 sounds* including GM and XG sets
512 user Sound and 128 user Drumkit locations with full editing features
Digital Drawbar Organ sound engine
DNC (Defined Nuance Control) and realtime articulation:
Three assignable switches
Four-way joystick
Ribbon controller
Complete sample recording and editing features
Import audio waveforms in the most common formats including Wav, Aiff and SoundFont.
Over 500* factory Styles with Intros, Endings, Fills, Count-ins, and Breaks
4 Keyboard Sets and 4 Pads per Style,
13 Internal user banks and 13 Direct user banks locations for unlimited storage
Guitar Mode 2 provides more realistic guitar parts
Chord Sequencer function in Style Play mode records any chord progression on-the-fly
Chord Sequences can be saved in each Style and SongBook entry
Search function for quickly locating any musical resource
New standard MidiFile to Style converter feature
Keyboard Set Library includes a collection of best ready to play sounds
Keyboard Sets can be recalled even from Direct locations
Multiple Effects processors - 142* effect types:
4 Insert and 3 Master effects for accompaniment parts,
1 Insert and 2 Master effects for Keyboard Tracks
Waves MAXXAUDIO Mastering Suite:
MaxxEQ, MaxxBass, MaxxTreble, MaxxStereo, MaxxVolume
TC Helicon Vocal Processing:
Four-part Harmonizer, Double, Mod, Reverb, Delay, Filter, HardTune, Pitch Correction plus Compressor, EQ, Gate (Adaptive Mic Setting on the Mic input)
Double MP3/MIDI file players with recording capability, X-Fader and Vocal Remover
Score, Chords, and Lyric display
Compatible with most common lyrics formats including graphical (+G) for MP3.
Lyrics can be showed in their original languages (except Oriental and Arabic Languages)
Enhanced compatibility for GM and XG songs.
Fully programmable SongBook database based on Styles, SMF, Karaoke, and MP3
Instant recall of any song setting
User-definable Set Lists assignable to panel buttons
Filtering and ordering options
Multi-language extended character set.
Internal hard drive
Pa4X 76: Standard
Pa4X 61: Optional
MicroSD card slot (card not included) allows for mass storage and data protection
Optional PaAS speaker bar - connects without wires or power supply
Yamaha Genos vs. Korg Pa4X - Sounds Comparison
THE ALL NEW 2015 KORG Pa4X-76 KEYBOARD
YAMAHA TYROS 5 vs. KORG Pa4X
Short PA4X Review/ Response From One of Our Customers
Just to say how wonderful I think the Korg Pa4x is. It has made a happy man very old. Or is it the other way round!? A Tyros player remarked how good the intros and outros are, especially Duke's Ballad. Shivers down my spine! It is now so user friendly with saving the settings etc.
I also love the the semi-weighted keys , the touch screen and the search function. The keyboard fits nicely into the boot of my car. I have converted Tom Jones "It's Not Unusual" midi file to a style(see attachment). Then when I played the intro and asked listeners to name the song, I ended up playing "All my loving" by the Beatles!! Fooled them, how they laughed!
Finally I thought your USB stick has some terrific styles on it. May I ask where they came from?
KORG PA4X Professional Arranger Workstation Staff Review
Having read a little of the blurb and watched the video , I have to be honest and say initially I wasn't overexcited that it would be a big improvement on my PA3x, I knew it would have a tilted screen on the 61 which is a help and I knew about the midi to style converter , which sounded interesting but not enough to tempt me, although it was brilliant, when we tried converting all the midi files we tried worked very well and were converted in seconds ( just done a video on this feature , have a look.

What I didn't realise though is just how much great new content of sounds and styles there was. The Piano samples almost sounded more Roland than Korg , completely different , of course the old ones are in there as well if you like those , but section after section the sheer number and quality of solid useable sounds was impressive. The same goes for the style categories , plenty of great new styles in each genre.

I only had half an hour sadly before Mr Korg took it away from us but quite honestly it left me drooling and working out how I can wangle it !
---
Review by Alan Hamilton.
We first heard the PA4x when Adam our rep brought one in for us. Time was short so we let Justin have a go after all he owns the PA3X and he's a huge fan of the main competitor the Yamaha Tyrosa5 so who better to test it. We expected the PA4X to be better than The PA3x but were gob-smacked at the improvements. The Korg PA4x is amazing, we have one in the shop now and it's a long time since we've had a keyboard that everyone goes to have a quick dabble on when there's a few minute quiet, it draws you to it.
Korg have always had great rhythms, you just can't help tapping your toes to the Pa4x's rhythms, they're fantastic, full rich and warm, the clarity is awesome, the one touch settings are OK, hopefully we might see some upgrades here, cutomizing the PA4x is easy and satisfying because it's always going to sound brilliant.
First sound to try is always the piano, Korg haven't always been the best pianos but the new piano on the PA4x is great, it's a full sound with loads of expression but doesn't go daft when you hit it hard, it gets brighter without the brittlesness of many keyboard pianos. Strings are as good as they get and you'd expect this from Korg, and there's a violin that's incredible you just want to play it. The brass sounds are amazing and the DNC (Korg's term for really high quality expressive sounds) work amazingly well especially when using aftertouch. I love aftertouch and I would like to see manufacturers make more us uf it. The Korg PA4x does, wobble your finger with a guitar voice and you get the modulation of the note just like a guitarist would. I know I look a bit daft doing it, but then I look daft doing it on guitars aswell.
The operating system has changed quite a lot and anyone who is used to the PA3x might take a while to adjust, the sound quality will definitely keep you persevering though. For those not used to Korg and thought it a little too different will soon to get to grips and find it a treat to use. It is a better operating system than the PA3x.
The touch screen on the PA4x gives you what you want quickly it's extremely responsive probably more so than a a phone or tablet. Touch screens have been around for ages and have never been quite as easy in practice as the theory would suggest. The Korg PA4x is a whole new ball game, it does exactly what it's meant to do, it's a pleasure to use . Graphics are a bit dated but it doesn't matter because it works so well.
I suspect that Korg will do extremely well with The PA4X, it offers direct competition to the Tyros5. It's still not as easy as the Tyros5 to use but it's getting close, the preset registrations and music books are not as refined, the PA4X sounds amazing 'live', it has a greater ability to customize.
Which sounds better, the Korg PA4X or the Yamaha Tyros5 ? This is personal choice, you must make that decision yourself because it's not easy. They are both amazing instruments.
Follow up to Korg training Nov 6th 2015
Here are some additional useful points
Memory compared to previous models , PA3X had double the memory of PA2X , PA4X has a whopping 10 times the memory of PA2X
What does this massive memory actually mean and why is it better ?
This is why the keyboard sounds so good and why there are so many nuances and articulations , for instance take the Piano , apart from it being a great new Steinway sample , the decay of the piano when you hold the sustain pedal down is so natural , in the past we've had an unnatural looping effect . A Cymbal rings like a proper cymbal , sounds have more character , depth and dynamics. All of these improved sounds affect the backing styles , even if you use a style that has the same name as a previous model it will sound completely different with the better , longer samples, the guitar effects and amp modelling also plays an important part of the improvement in the backing styles, as does the reverb effects , pinched from the Kronos series
EASE OF CREATING A REGISTRATION ! - This, in the past has been a bit of a sticking point for some customers, now they really have made this a lot easier and better , once the keyboard is set up to your liking , all you do is press and hold the songbook button and thats it everything is saved, you can even have them in 12 registration buttons on the keyboard , this is similar to the 8 registrations used by Yamaha and its even in virtually the same place, in addition you can see a full screen image of all 12 registration locations , so you know all of the time whats in each of the 12 buttons ,because you can see it very clearly on the screen , if you prefer you can change registrations on the screen or touch the 12 physical buttons , for clarity this feature is called SET LIST not registration.