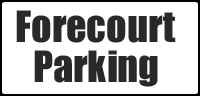 Opening Times
Mon - Sat
9.00am - 5.30pm


Sundays
Closed


2nd/ 3rd June
Closed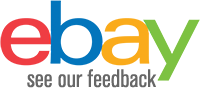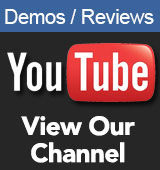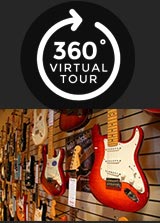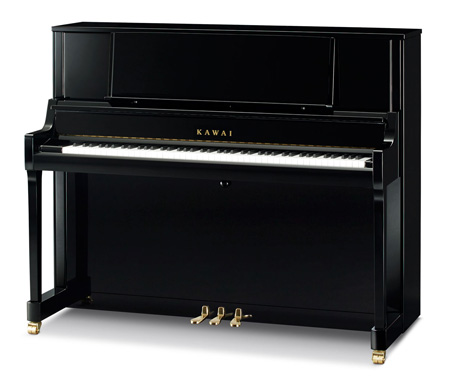 Kawai K400 Upright Piano - Polished Ebony
£6399.01 RRP £7999
Kawai Acoustic Pianos have a 2 week lead time. They are individually prepared in the UK warehouse by a specialist Kawai technician
If delivery times are urgent please call us on 01772 722468 and we will ask for priority preparation and delivery
Free Mainland UK Delivery
Premium delivery with specialist movers
Pay Monthly
Pay up to 50% deposit - adjustable at checkout.
Example deposit of £639.91...
6 Months 0% APR - £959.85 P/M
Kawai 12 Months 0% APR - £479.93 P/M
Kawai 18 Months 0% APR - £319.96 P/M
Kawai 24 Months 0% APR - £239.97 P/M
36 Months 9.9% APR - £184.41 P/M
48 Months 9.9% APR - £144.62 P/M
Click HERE for finance FAQ.
Kawai K400 - Made in Japan
The Kawai K400 piano is the first upright in the K-series made in Japan with a distinct tone and sound that makes it a standout piano in the range. It has the Elegance and rich sound you would expect of a top class piano with a touch that allows superior dynamic control and reliability. The large front mounted music rest can be swiveled out bringing the music to the perfect reading position which the lower models can not do. If you are looking for a piano that makes a stand from the rest the Kawai K400 is the perfect choice.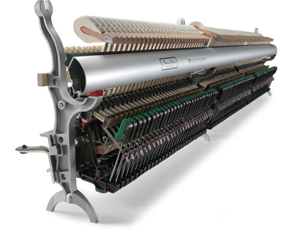 Great Key Touch and Dynamic Control - Millenium III Kawai K400
The touch of the keys is vital to a great playing experience. With thousands of moving parts it is imperative it is perfectly designed and as reliable as it is controllable. The Millennium III action combines traditional wood with ABS-carbon components which means a lighter design with enhanced strength and reliability. The action also makes use of a longer key length which means the combination of the keys with the advanced mechanical design gives the player a much more dynamic and controlled feel without being over heavy. It is truly marvelous to play!
Solid Spruce Soundboard Kawai K400
Kawai use only straight-grained, quarter-sawn solid spruce for K Series soundboards. Each soundboard is strategically tapered to maximize its tone producing capability. It gives Kawai their definitive outstanding sound and is the heart of the piano sound.
Strength In Design Kawai K400
It's the finer details that make a piano stand out. Kawai have made special adaptations on the K400 piano to enhance the strength of even external components. The front keyslip (piece of wood at the front of the keys) has been reinforced to stop it warping and moving with temperature which can be a common cause of sticking keys. even the keybed frames are reinforced using metal bracket supports to ensure nothing moves out of position.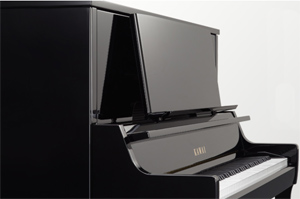 Kawai K400 Music Rest
Grand-style design incorporated into the best-selling size. The uniquely practical 122 cm K-400 features a grand-style music rack that places music at eye level and provides a solid surface for sheet music and oversized music books. The dual-hinged fallboard adds to its distinctive appeal.
Kawai K400 Extended Key length
Longer keys make playing easier and provide more even response from the front to the back of the playing surface. The benefits to the player are greater control and more power with less effort.
Kawai K400 Hammers
Mahogany hammer mouldings are lightweight and extremely responsive. Found on only the finest pianos, mahogany is used for the hammer mouldings on the entire line of K Series Professional Upright Pianos. All K Series hammers are T-Stapled to preserve hammer shape and fitted with an added interior layer of underfelt to support the creation of exceptional tone.
Kawai K400 Engineered to last
Steel-Reinforced Keyslip - The piano's keyslip is the long, horizontal piece of wood that covers the front faces of the keys. Because it is long, thin and made of wood, a keyslip can warp or bend with changes in humidity, causing keys to stick. To eliminate this problem, a heavy-guage steel angle iron is added to prevent warping and bending in any direction. Keys move more freely with virtually no possibility of rubbing or sticking against the keyslip.
The piano's keybed must be strong and stable to support the action assembly and maintain action regulation over years of heavy use. K Series keybeds are made with sturdy laminated hardwoods and reinforced by rear braces on the iron frame that help to ensure stable placement and add rigidity to prevent energy loss.
Kawai K400 - What the specs don't tell you
Compare the specifications of the K300 and the K400 on the Kawai website and you'll struggle to see any difference. The difference in appearance is obvious. But when you play the pianos side by side it's quite amazing how different they are.
Kawai K400 Specifications
Size
Dimensions: (HxWxD) 122 cm / 149 cm / 61 cm
Weight: 230 kg
Touch/ Action
Keys: White key surface - Acrylic, Black key surfaces - Phenol
Action: Millennium III
Hammer felts: All underfelted
Sound
Soundboard: Solid Spruce, Tapered
Speaking length of no.1 string: 1,200 mm
Cutoff bar 2
Back posts 5
Exterior Design
Pedals: Soft, Muffler, Damper
Casters: Double, Brass
Lid: Softfall
Music rack: Grand Style
Steel reinforced keyslip & keybed
Kawai K300 and Kawai K400 Piano Comparison - 3 Distinct Styles
Kawai K series pianos video
Kawai K series pianos being made